Pay-per-click (or PPC) campaigns are a critical component of brand awareness in the digital-first age.
The most used PPC platform is Google Ads. Google not only owns the world's largest display network, but its ads can reach 80% of all global internet users.
Every executive wants to see their paid advertising budget bring in more qualified customers and to see a high return on investment. But they typically have a lot on their plate and nobody has the time to keep up with platform innovations.
Google Ads are famous for having a steep learning curve, as well as a plethora of secret tips, best practices, and 'hacks' that only add to the confusion.
It's hard to know which best practices are worth their salt in ROI, especially as Google makes changes to its ads platform.
This handy guide will walk you through a few best practices for setting up your account and campaigns.
Learn as much as you can
Before anyone accesses your account, you should familiarize yourself with the Google Ads platform. Understand what Google means when it says 'keywords,' 'conversions,' 'cost per click,' and more. Use this glossary to get on the same page as Google about these terms.
You should also log into Google Ads and get used to the interface. Google recently updated their platform and if you aren't intimately familiar with how to operate it you may be at a disadvantage.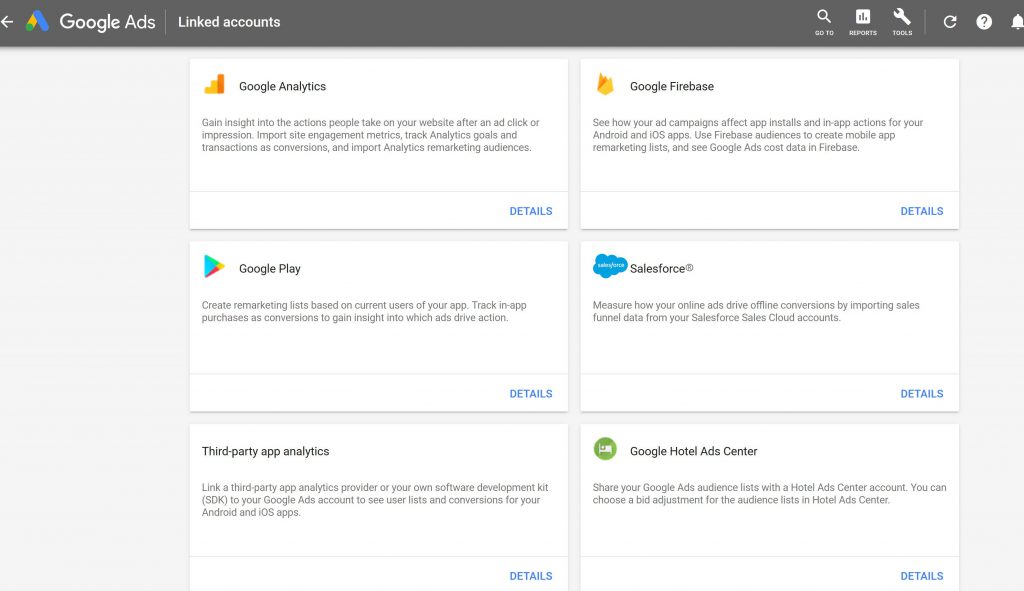 Obsessively organize
A profitable Google Ads campaign depends on correct organization of the various components of the campaign. This will help to avoid confusion.
First, set up Google Tag Manager (GTM). This will help you manage Javascript tags and keep your data in one place. GTM gives you a 24/7 view of your campaigns, whether they're on Google or not.
Not every marketing department uses GTM, but if you want to see end to end data of your marketing efforts, you need it.
This tool helps you track all of your Google tags in addition to third party tracking. GTM gives you a tag to include on your site's HTML. It fires whenever that tag is triggered, marrying this data with other tools like Analytics and Ads for a well-rounded view of your PPC efforts.
Next, make sure your Ads account is connected to Google Analytics. Google Ads will only show what happens when users click your ad; Google Analytics gives you the full picture of what happens after they click your ad. Simply go to Admin>Property>Google Ads Linking as seen below: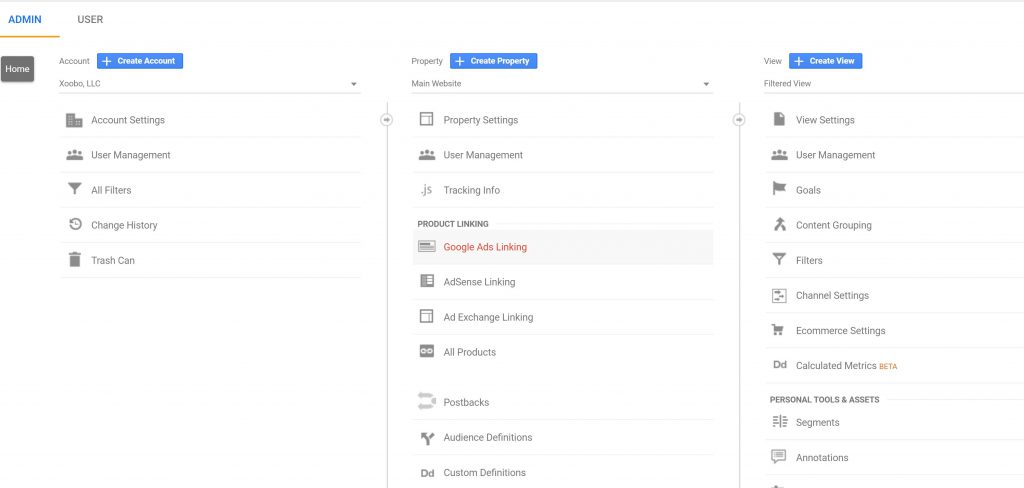 This will help you get better insights into your campaign's impact, and highlight any areas for improvement.
Additionally, by connecting Google Analytics and Google Ads, you can port your Google Analytics goals straight into Google Ads as conversion events (which allows you to track those conversions inside Google Ads, and leverage automated bidding strategies – more on that below).
Some companies figure out their Ads strategy as they go. If you want to see a sizable return, you'll need to have a strategy long before you plug your campaign into the platform.
Know your campaign structure, ad copy, landing pages, keywords, and audience personas before you even touch a campaign. This will help you stay focused and organized.
All campaigns should be carefully created with Google Ads' built-in hierarchy. The organization hierarchy in Google Ads starts at the campaign level, then ad groups, and ads.
For example, let's say your company sells baked goods. You create a campaign titled 'Cookies', have ad groups for the different cookie flavors, and then ad copies for each of the cookie flavors ad groups.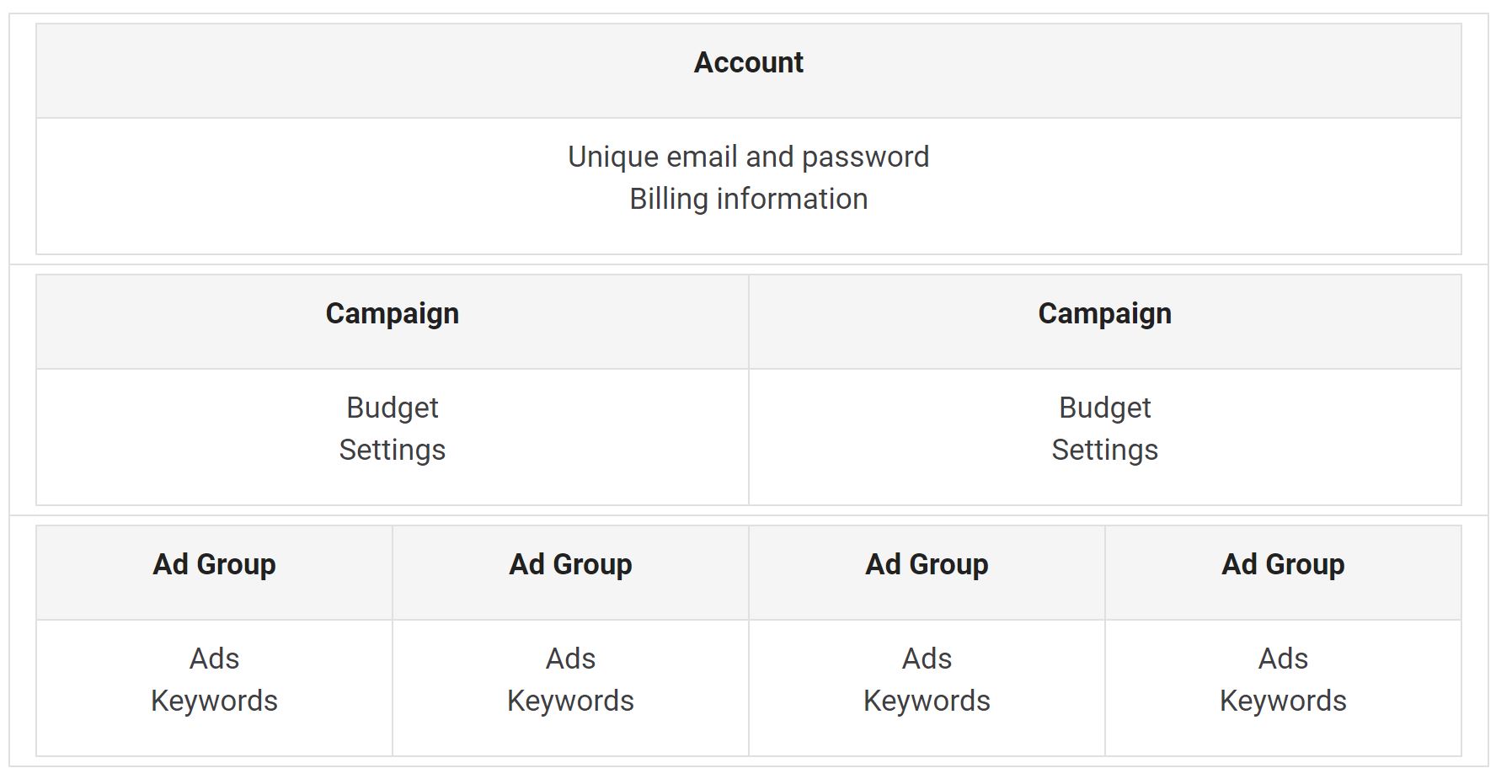 Again, it's a basic thing, but organization is key if you want to have highly targeted and responsive ads. This Google Ads structure naturally helps you micro-target interested audiences by being very specific with your ads.
The more relevant your ads, the higher the likelihood of a conversion.
Know your number
Passivity is the enemy of profit. It's critical to watch your numbers. Don't put your budget on autopilot and assume it's going to plan. As the leader, you have to be a good steward of marketing resources, and the best way to do that is to watch your budget.
Know your target budget before running an ad. This budget will influence what your daily budget and bids look like.
Let's say you have a monthly budget of $15,000 for a campaign. You would need to set your daily budget at approximately $500 per day to meet your budget.
You can, and should, vary the budgets given to different campaigns. For example, one campaign may be targeting more competitive keywords and would thus require a higher budget.
On the flipside, you wouldn't want to overspend on a campaign targeting low commercial intent keywords.
Write smart
Poorly written ads have ruined even the most well-designed Google Ads campaigns. This isn't the time to save money by asking interns to write your ads. Partner with a trusted internal resource or experienced PPC vendor to write sharp ads tailored to your audience.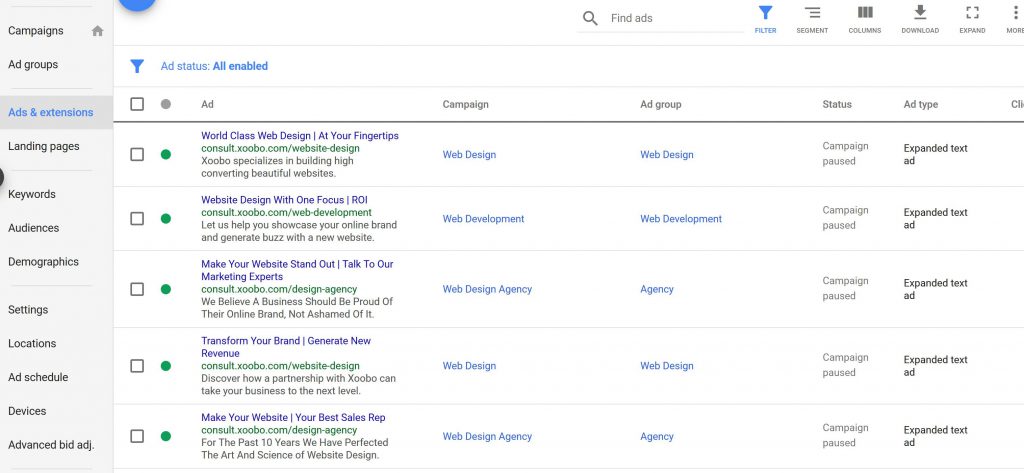 And don't forget to always set up the Ad Extensions feature for your content. These snippets of text help your ads stand out for zero extra spend.
They offer a call to action directly from the search engine, inviting users to call or book an appointment without clicking through to your site. Learn more about Ad Extensions here. This also helps to acquire more webpage estate (which makes you stand out above your competitors).
But great writing can't end with your ads
Your website and landing page have to not only flow with the content of your ads, but provide a fantastic user experience. Invest in well-written and beautifully designed landing pages.
This does two amazing things for your business. First, it increases the likelihood your customers will convert, helping you make a return on ad spend. Second, it improves your Quality Score, which also boosts your campaign's reach and returns (because Google rewards high quality scores with lower cost-per-clicks).
Never overlook the power of having a well-targeted and thoughtful landing page.
Make a competitive keyword strategy
Your keyword strategy needs to be more than a list of buzzwords. Start your Google Ads campaign with a set list of target keywords.
You can use tools like Google Keyword Planner to help you do free reconnaissance before setting up your campaign. Aside from showing traffic history for each keyword, Keyword Planner can even help you estimate bid ranges and protect your campaign budget.
Don't forget to use its powerful keyword amplification features to see if you've forgotten any low hanging fruit.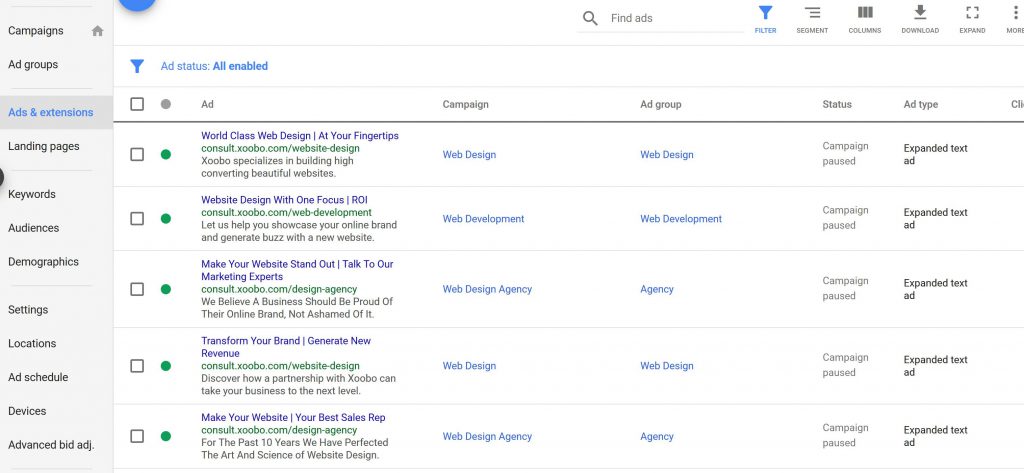 Keyword match type is also a critical component that's often overlooked in campaign setup. While many campaigns set their keyword match type to a default "broad match," it's not always the wisest choice.
For example, you might want to include "exact match" keywords if your keyword is general or used in multiple contexts. In this case, "exact match" helps you avoid extraneous clicks. "Negative match" is a great option for avoiding certain keywords altogether.
If you don't want to be associated with certain words, like 'cheap,' you can include them as negative keywords to filter them out.
Be different–no, really
Is your "unique selling perspective" (or USP) standing out in your Google Ads campaigns?
Think about it this way: hundreds of other businesses are competing for your keywords. You can (and should) compete on keyword bids, but your USP is a cost-free way to edge out the competition.
Emphasize your brand's uniqueness in your ads to convince users that you are the best (even if you have a smaller PPC budget than your competitors).
You can do this by comparing your USP statement to your ad copy. Do they align? How can the ad copy make your uniqueness clearer? Does the copy answer the question "How are you different?"
Get certified
It doesn't matter how large your company is or how much you spend on ads. If your account is run by someone who doesn't understand the platform, you're losing out on money. You should always have a Google Certified Partner managing your Google Ads account.
If you have in-house folks that are great and simply need the certification you can direct them here to receive it (it's free). You can then also enroll in Google's Academy for Ads. There is a wealth of information there that your team can leverage.
Get snoopy
While Google's Keyword Planner is a marvelous free tool, it won't tell you everything (like your competitors keywords).
This is a critical component of running profitable campaigns with a competitive edge. Use paid tools like SpyFu or Keyword Spy to see your competitors' keywords, bids, and ads.
This helps you target keywords they may have missed or adjust bidding to edge them out of the market. You obviously shouldn't copy their strategy, but it will give you actionable data for optimizing your own campaigns.
Optimize for conversions
The name of the PPC game is to get more leads for less money. The insightful Smart Bidding tool can help you do just that.
Smart Bidding is a feature built into Google Ads and it's completely free to use. Once you set up conversion tracking for your campaign, Smart Bidding uses Google's powerful AI to get more conversions for less cost.
Through learning about your conversion data, Google optimizes your ad placements automatically. This helps you avoid those annoying unprofitable clicks that eat at your budget.
Google also offers Target CPA bidding (formerly known as Conversion Optimizer) to help you automatically adjust bids for conversions.
While Smart Bidding optimizes placements, Target CPA bidding helps you adjust bids based on the quality of potential clicks. Learn more here.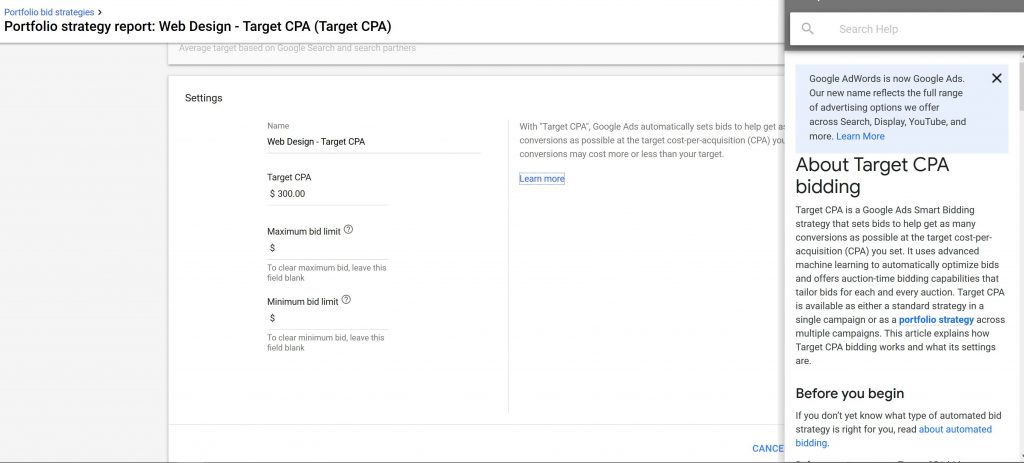 Split test
You split test your email subject lines and landing pages. So why aren't you split testing your Google Ads?
The new Ad Variations tool in Ads lets you split test components of your ad, further optimizing your spend. Go to 'Drafts & Experiments > Ad Variations' to access this feature.
If you're using the old Ads interface, make sure you update so you can use this feature bug-free. Ad Variations enable marketers to test headlines, descriptions, and paths.
Check out this guide to learn more about Ad Variations.
The bottom line
Google Ads doesn't have to drain your budget. Marketing leaders need to stay informed on Google Ads best practices to keep their marketing departments profitable. Make your brand's voice heard in the noisy digital world by implementing these smart PPC strategies.
Need a fresh pair of eyes on your PPC campaigns? Give us a call!
Which PPC strategies have worked well for you? Tell us all about it in the comments section below.

Related Posts