When starting a new e-commerce business the first thing you need to focus on is building a website that sells.
A popular Content Management System (CMS) that can help with that is WordPress. Powering 32.2% of all websites as of Nov 2018, and holding over 59% of the CMS market share, WordPress is the most widely used CMS in the world (statistics sourced from W3Techs.com).
WordPress offers an easy-to-use interface – even a layman with basic knowledge can build websites on it. Here, we've put together a guide to help you make an engaging and highly functional e-commerce website.
Essentials Of An e-Commerce Website
Though the development of a fine-tuned e-commerce platform depends on many factors, the following can be considered the four essentials of an e-Commerce website.
Mobile Optimized Structure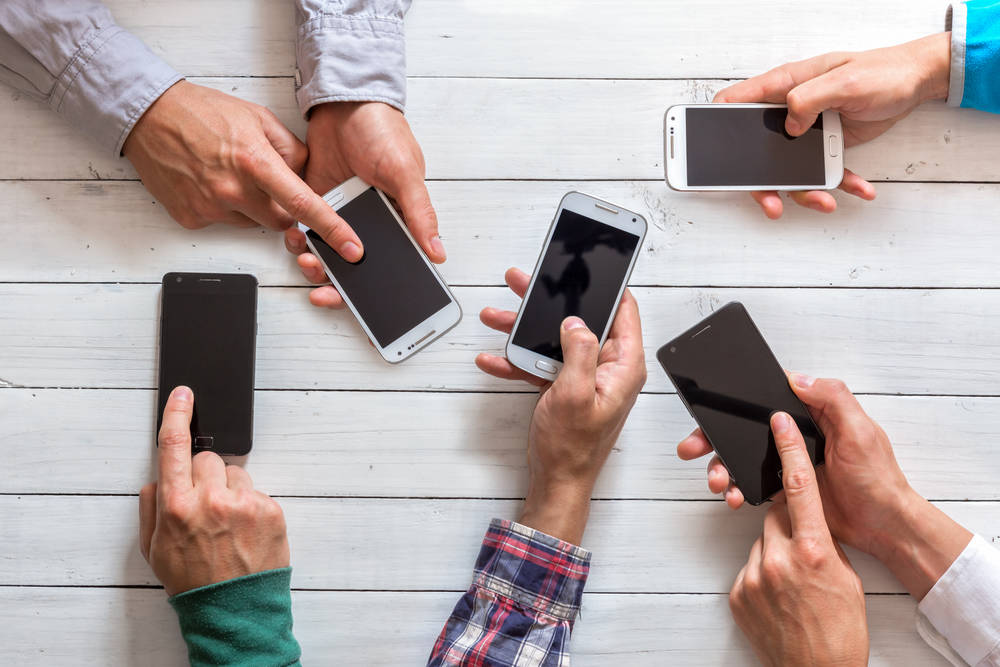 As revealed in a 2016 study, over half of all sessions on e-commerce sites were carried out via mobile. As of 2018, mobile phones generate 52.2% of all global internet traffic.
Also taking into consideration the rise in popularity of tools such as voice search and chatbots, mobile-friendly websites are mandatory for online businesses.
Lucky for us, WordPress provides countless plug-ins to help develop a mobile-friendly platform.
Product Listing Pages
Hopefully, your products are the main reason why people are visiting your website. It's where all the substance resides, so it's no surprise that product pages alone should feature over 30 details.
Couple that with the fact that 38% of visitors will simply leave your site if they don't find it attractive, a well-planned product page can not only increase the time spent on your site but also serve as a critical factor in your sales funnel.
An Optimized Cart and Checkout Page
Your e-commerce site needs a checkout cart – a no-brainer, right? Of course. However, did you know that so much more goes into an effective cart than just the mere presence of one?
28% of shopping carts are abandoned because the process took too long, and 37% of online shoppers call it quits because they're requested to create an account on the checkout page.
A strategic checkout page can be the difference between more fuel for your bounce rate or a higher conversion rate.
Actionable & Informative Copy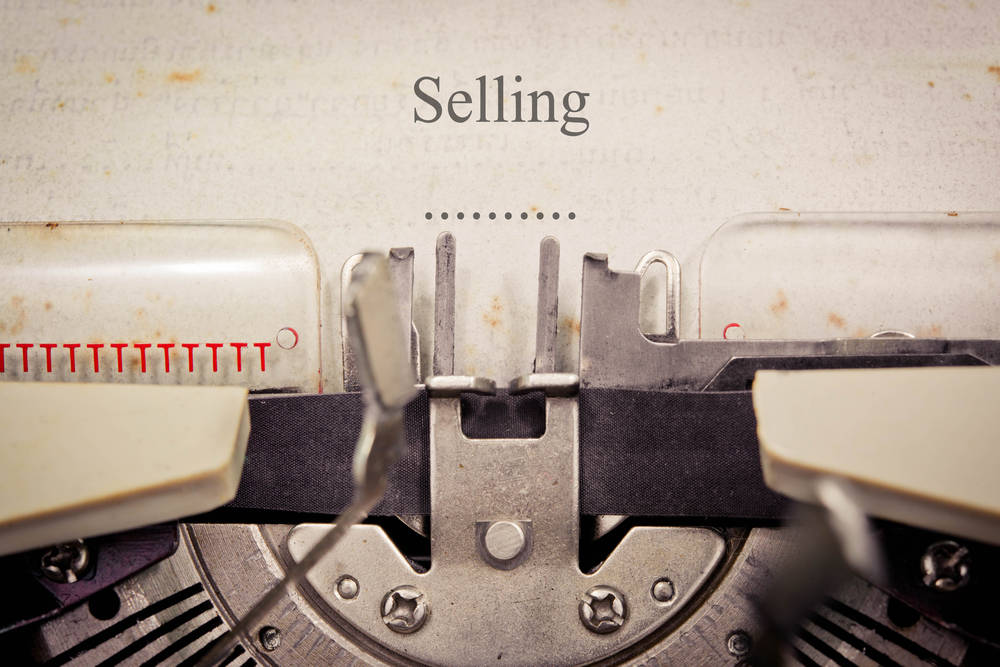 Just how important is the content on your e-commerce site? For starters, 85% of online shoppers believe that detailed product information strongly influences their purchasing decision.
Whether it be a list of informative FAQs, your convenient return policy, or persuasive calls to action, no e-commerce site is complete without great copy – preferably optimized for SEO.
What Makes WordPress an Ideal e-Commerce Platform?
There are a number of factors that contribute to the widespread use and popularity of this CMS. From ease of use to the flexibility and functionality, WordPress offers a number of features that stand unrivaled by other content management systems.
Full Control Over Your Website
WordPress provides full access to the customization of your website, allowing you to use your own fonts, layouts, and themes.
With WordPress you can adjust your website accordingly and use any a template of your choosing that is suited to your needs.
You can find new, free templates on marketplaces such as Envato and ThemeForest that you can download and use on your WordPress website.
Useful Plugins
WordPress also features a wide array of plugins, ready to be downloaded with just one click.
These plugins are designed to assist you in the development of your website, considerably simplifying the process. Some useful e-commerce plugins include:
Woocommerce is a must have WordPress plugin. It is an open source platform that allows users to build a multi-language store, opening up your website to customers all over the world.
Ecwid is an e-commerce shopping cart plugin that can give your users an easy-to-use cart function on your WordPress website.
A premium WordPress plugin, Yoast SEO handles the technical optimization of your website and allows you to optimize your content for search engines.
Another SEO and user-experience-enhancing plugin, W3 Total Cache helps improve your website's loading time and gives you more control over its cache.
One of your top priorities should be to allow customers to contact you easily in case of any problems. WPForms helps you do this easily and efficiently. Other prominent WordPress plugins include Jigoshop, MarketPress, WP eCommerce, Cart66, Easy Digital Downloads, etc.
Superior Developers' Community
WordPress is supported by an unrivaled community of developers, who offer new designs, templates, and assets on a daily basis.
The available choices of WordPress plugins alone are enough to tell you how diverse the developers are in terms of designing and development.
Together they also provide one of the most robust support communities that are available to answer any of your technical questions and needs.
Setting Up an eCommerce Store on WordPress
Whether you're looking for a quick process or an extensive build of a perfectly optimized platform to get your store up and running, WordPress is just as comprehensible either way.
Registering a Domain
The first thing you need to do is register a domain. You can do this using a number of hosting services out there, such as InMotion hosting, 1&1 IONOS, GoDaddy, Bluehost, HostGator, etc.
In order to do so, go to Hosting Site > Get Started > Choose a Plan > Sign Up.
Here you will be able to select an available domain name, fill in the necessary information, and select additional services.
Once done, you will receive an email on your registered email address which will allow you to log in to your domain.
WordPress installation
Next, you need to install WordPress.
Popular Auto Installers, including the following, can help automate the installation process:
WordPress Toolkit by Plesk
Cloudron
Fantastico
Installatron
Softaculous
Bluehost
You can also use WordPress on the web, which is a compact version of the app.
Signing Up
Next, sign up to WordPress by either creating a new ID or simply using your existing Gmail ID.
Those who already have a pre-existing WordPress account may simply log in.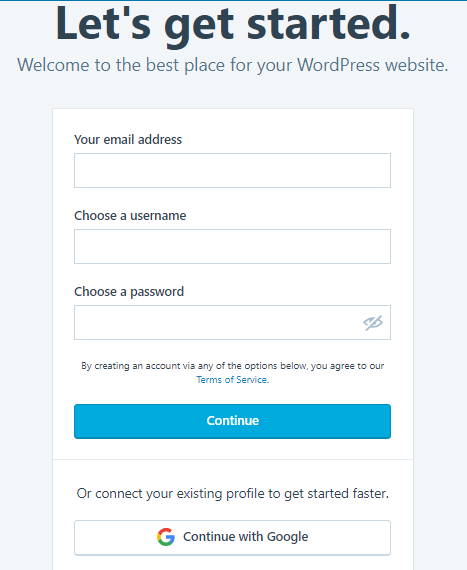 Theme Installation
Once you've logged in and submitted all required information, WordPress will lead you to your Admin page – this is where the magic happens.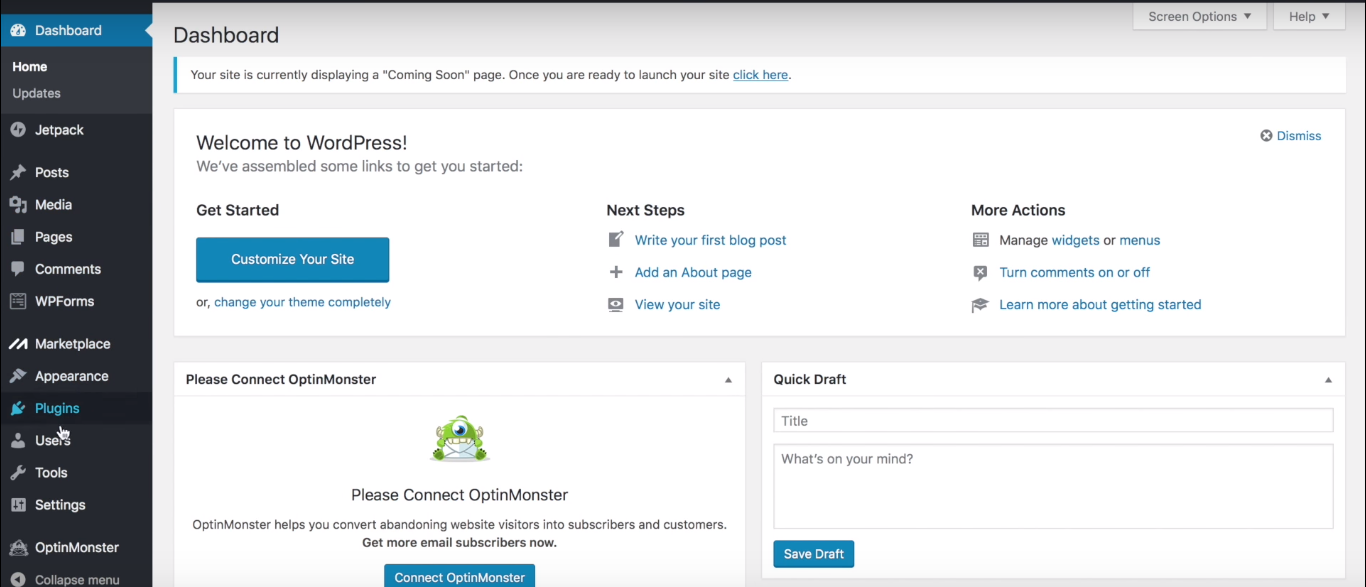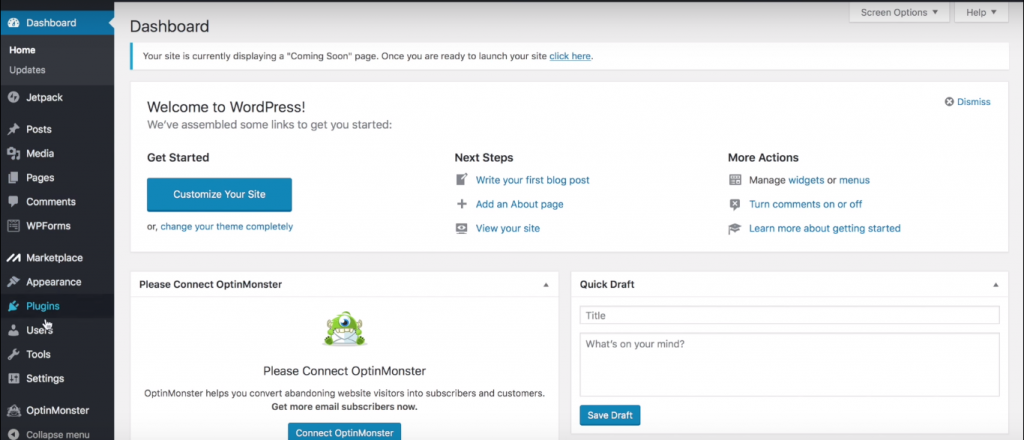 WordPress Admin will guide you through the process of picking out a responsive theme tailored to the needs of your store.
While WordPress offers a wide selection of pre-made themes for users to choose or buy from, it also allows users to upload their own themes.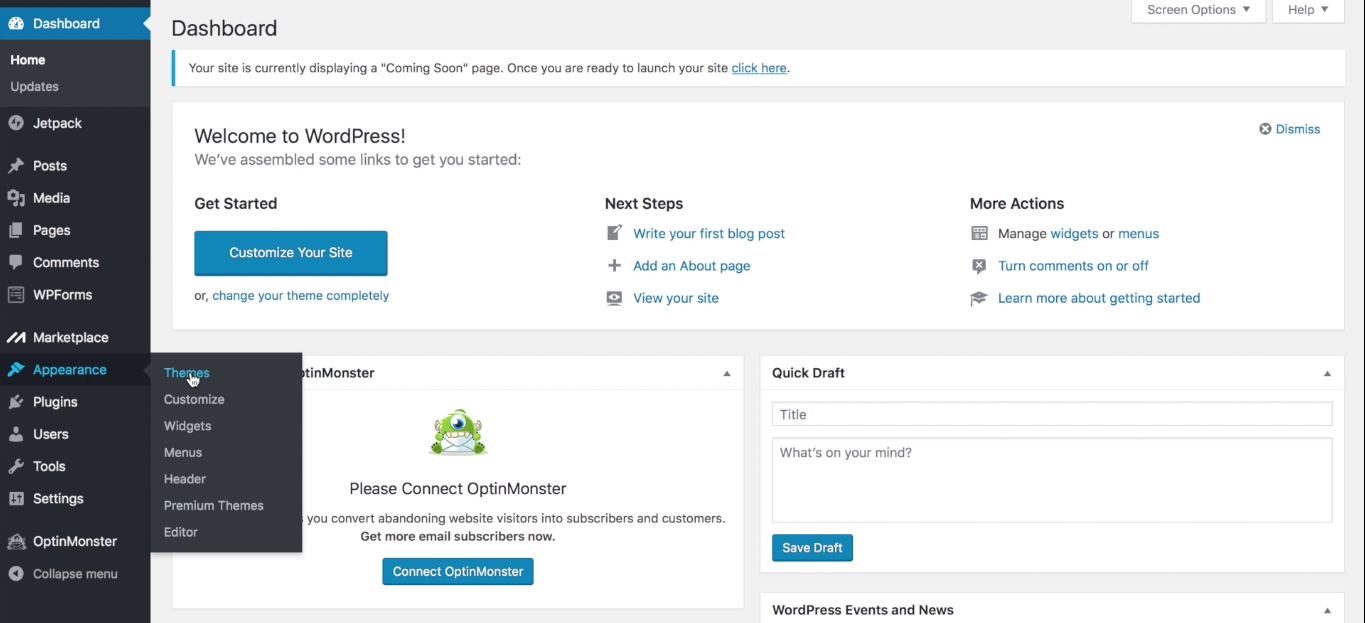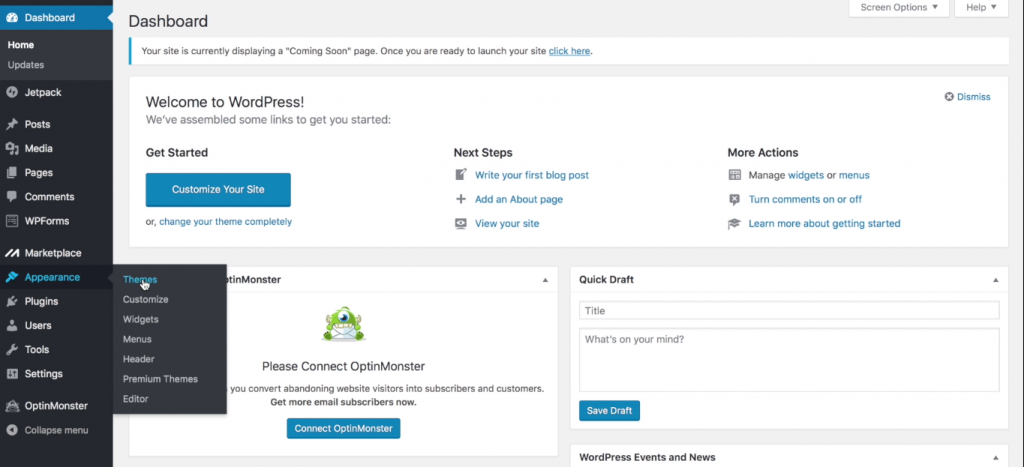 Click on Appearance > Themes.
Scroll down to see all the preexisting themes and select a theme of your choice.
To upload a theme you made, click the Upload Theme button.
Go to your download folder or any other folder where you have your new theme
Click Upload
Once done, select Install Now
You'll be taken to a new page, where you can select Activate to start using your theme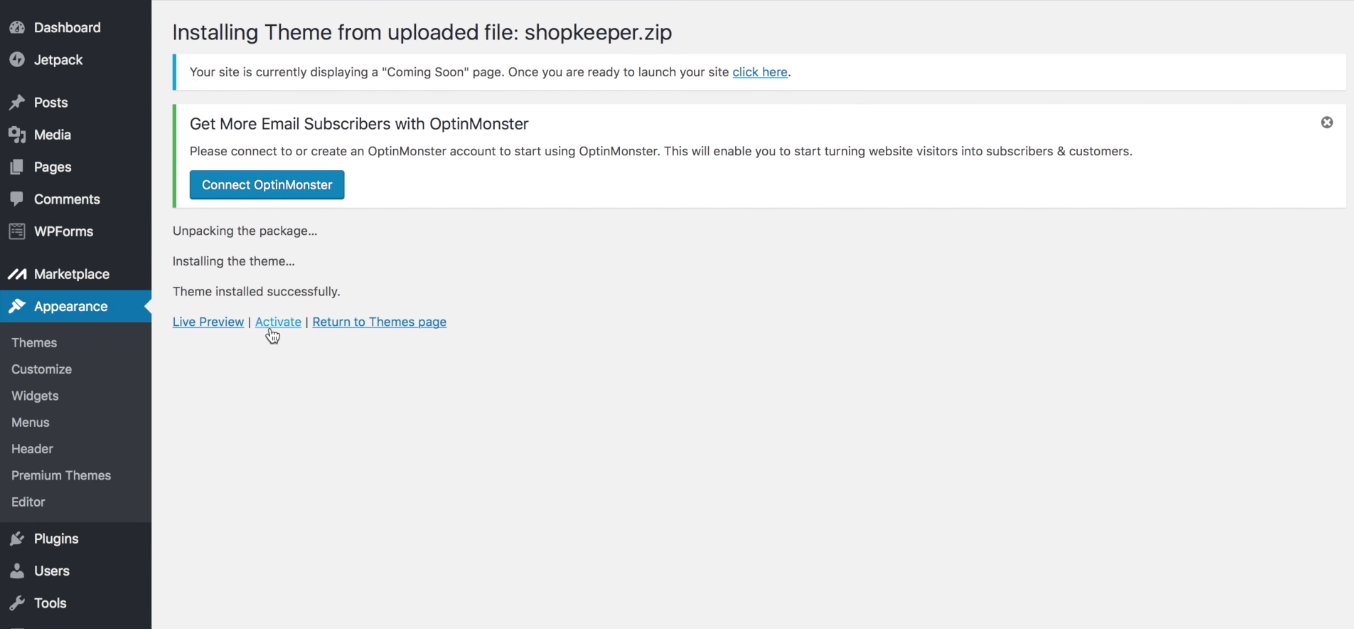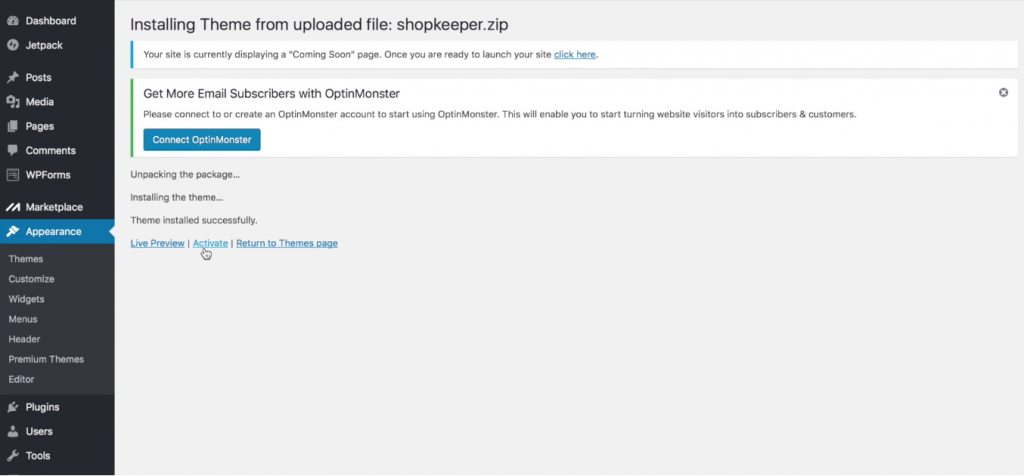 Setting Up and Using Plugins
If you're using WordPress 2.7 or above, you can purchase, download, and install plugins for your website directly from the Admin page. A list of common and useful plugins has been listed above.
To install these plugins.
Go to Dashboard > Plugins
You will see a list of all your Select the plugin you'd like to install and use
Where it says Bulk Actions, drop down the menu and click Install
Click Apply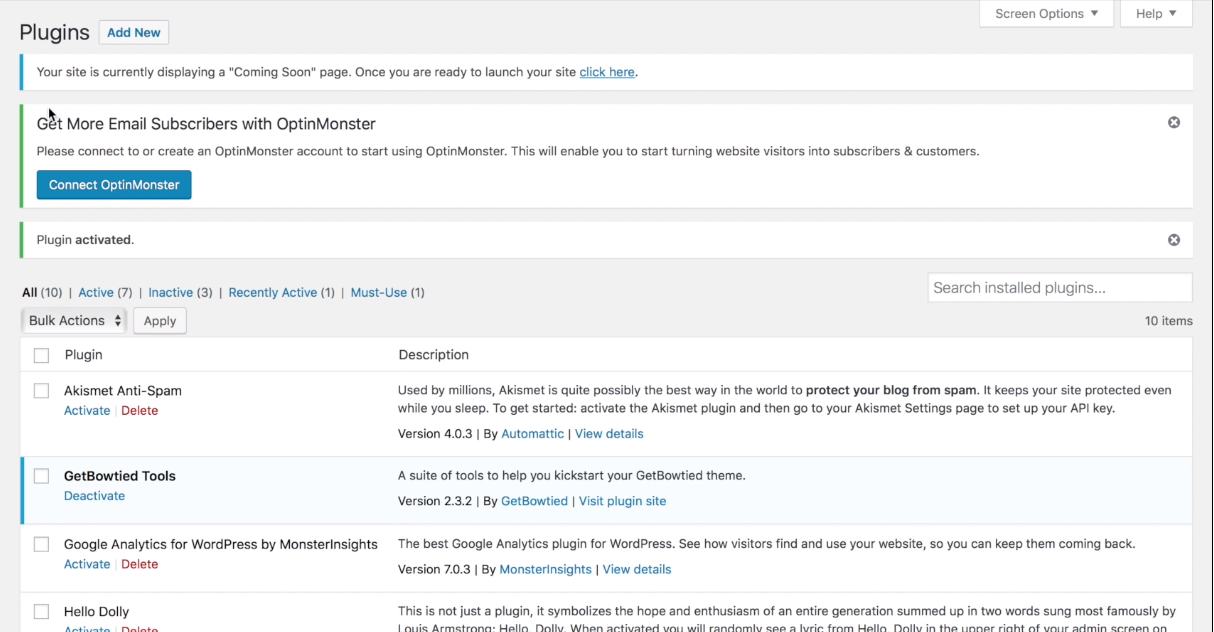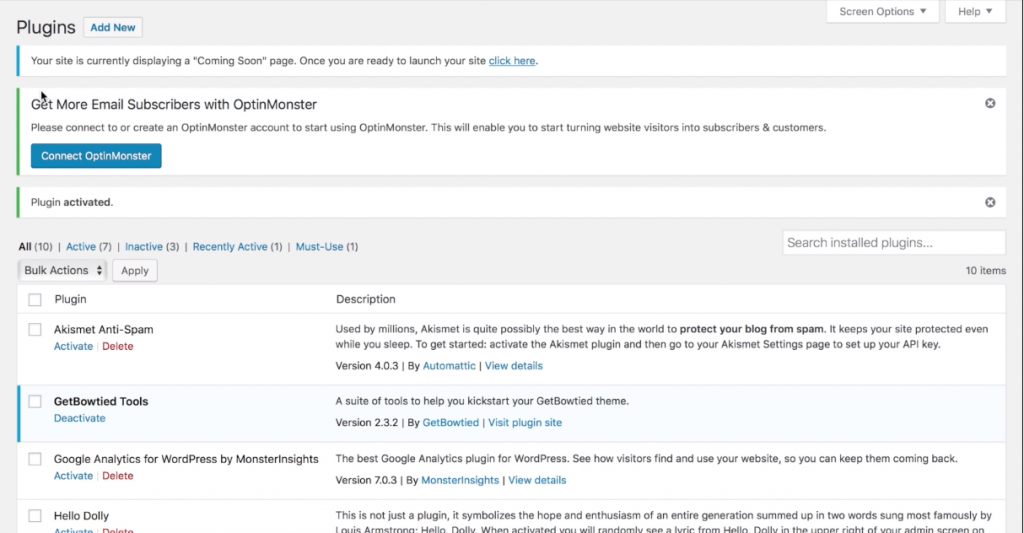 Next, click Activate from the same drop-down and click Apply again.
Your plugins are now ready for use. You just have to:
Go to your Dashboard
Hover over Appearance and click on Themes
On this page, click the tab that says "Install *Plugin_Name* Pages"
This will install the default pages that the plugin contains. For example, WooCommerce has Cart, My Account, and Checkout pages associated with it.
Resizing Images
The themes will have images that might be too big or small for you. To reshape plugin images:
Go to your Plugin tab, let's say WooCommerce.
Click on Settings > Products > Display
Here you can change the image sizes as per your requirement. You should make sure that all your images have the same width, if not length.
At this time you can upload custom images onto your site, as well. You can resize these images easily using Regenerate Thumbnails under the Tools tab.
Creating your Custom Website Layout
Once you are satisfied with your logo and other images, it's time to start setting up your website's layout — think of it like arranging the furniture in your house.
To do so:
Go to Dashboard
Click on Pages > Home Page
Here you will see several options, each of which you can adjust according to your requirements.
Backend Editor
Frontend Editor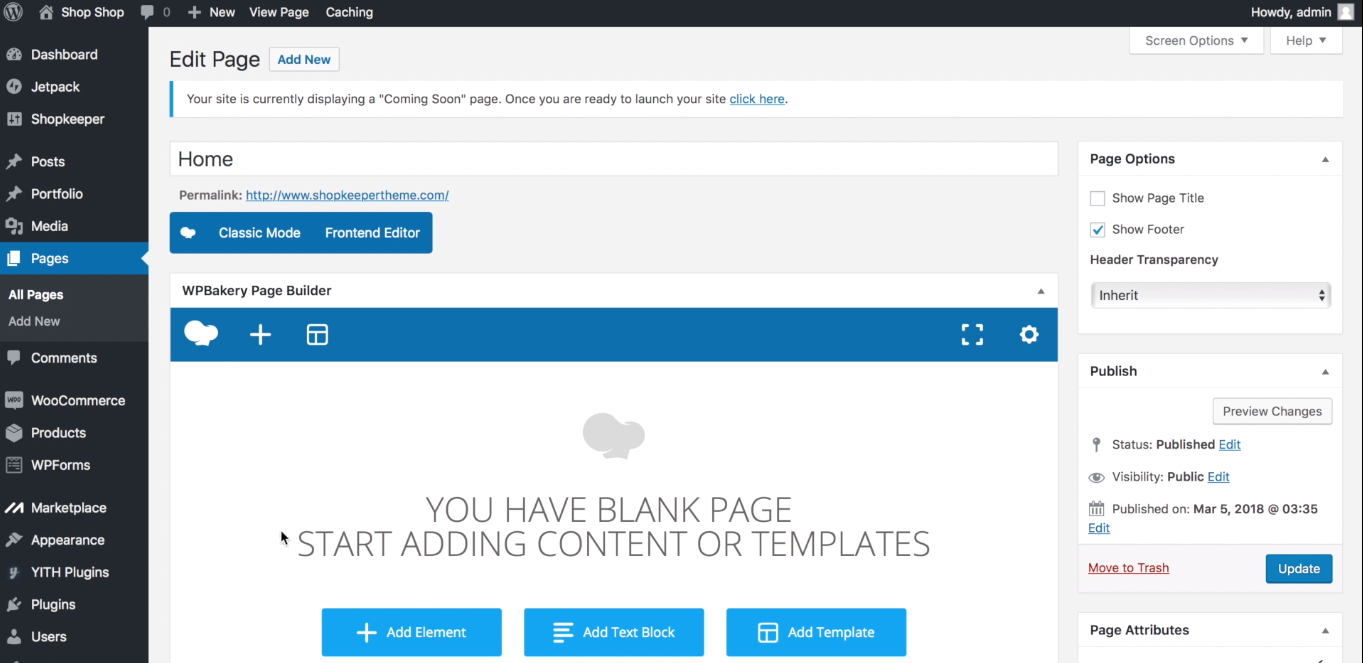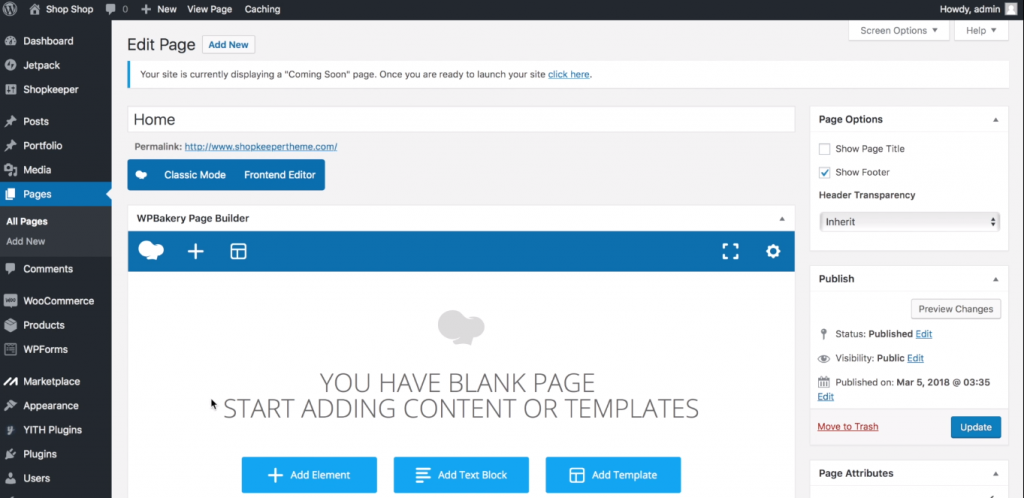 These will allow you to add elements, text blocks, or downloaded templates to style your homepage.
Clicking on the '+' sign will allow you to edit:
Logo & Icons
Layout
Header
Footer
Style & Color
Product Page
Category Page
Cart & Checkout
Catalog Mode
Blog
Featured Items
Backup and several other elements
Creating your Custom Website Logo
To make your own logo, you can use several plugins, one prime example being LogoMakr.
Install the plugin
You will then see a search bar on the top left corner
Search and choose a suitable image for your logo
Insert the image in the white space, color, reshape, and resize it as you wish
Click the 'T' symbol on the left-hand side to add text to your logo
Resize the text to be readable and fit perfectly with your logo
When you're happy with the logo, save
You can download the logo once saved and insert it into your theme
Creating Homepage & Blog Page
To create a homepage or blog:
Go to Dashboard
Click on Pages > Add New
Title the new page Homepage or Blog
Click Publish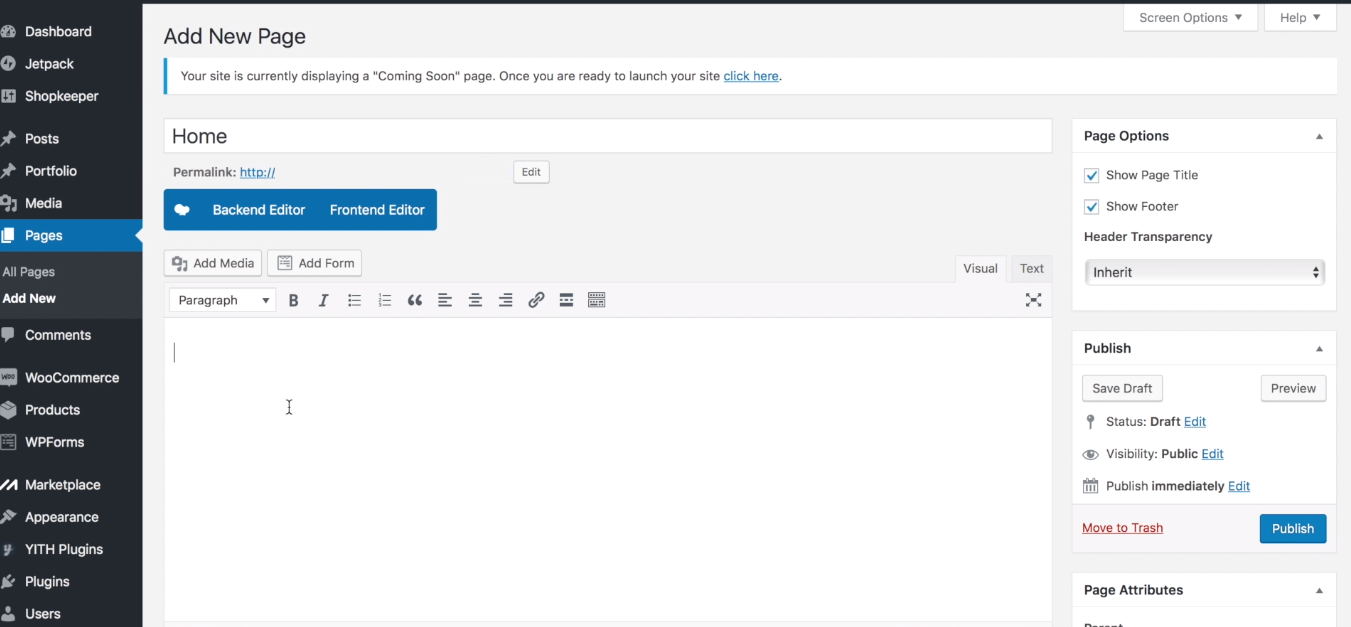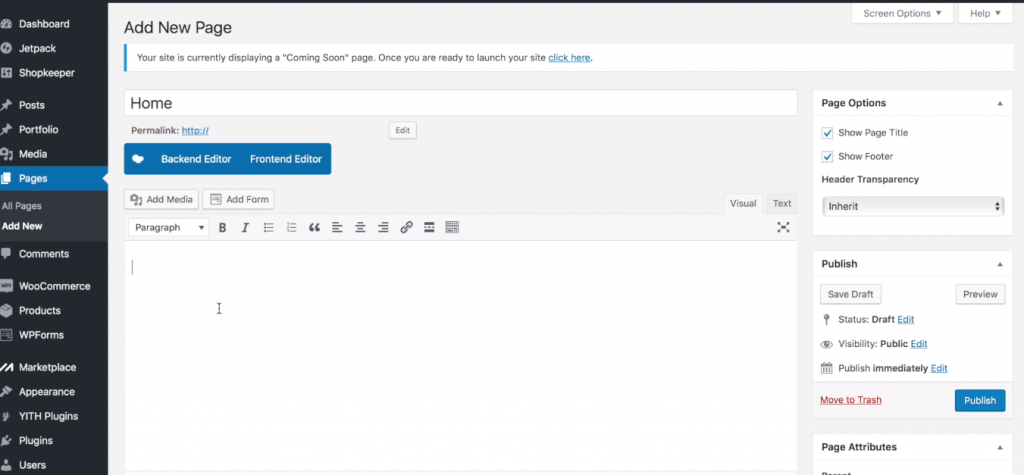 The Pages tab on your left can be used to cycle between your landing page and others.
At this point, you should start filling up your site with blog posts, articles, infographics, videos, or any other form of media that you think might help increase traffic.
Yoast SEO is a very helpful tool in this regard, as it helps you determine how SEO optimized your site is.
Adding Product Pages and Products
Now, we get to what the website is really about. This is the most time-consuming part of building your e-commerce website. First, add the products to your website.
Go to Dashboard > Appearance > Products
Click on Add New
A window will open where you need to add Title and Descriptions about your products.
Add Product Data Information, e., the price, stock, etc.
Add a Product Short Description
Add product categories such as color, size, etc.
Add Images to the product gallery.
Click Publish
Then you need to list the products.
Go to Dashboard > Pages > Add New > Write page title as "Products"
Head to the Page Attributes section
Select Default Template and paste the following code into its content.
[title text="" style="center"] [products ids="##" columns="6″] [title text="" style="center"] [products ids="##" columns="6″] [title text="" style="center"] [products ids="##" columns="6″]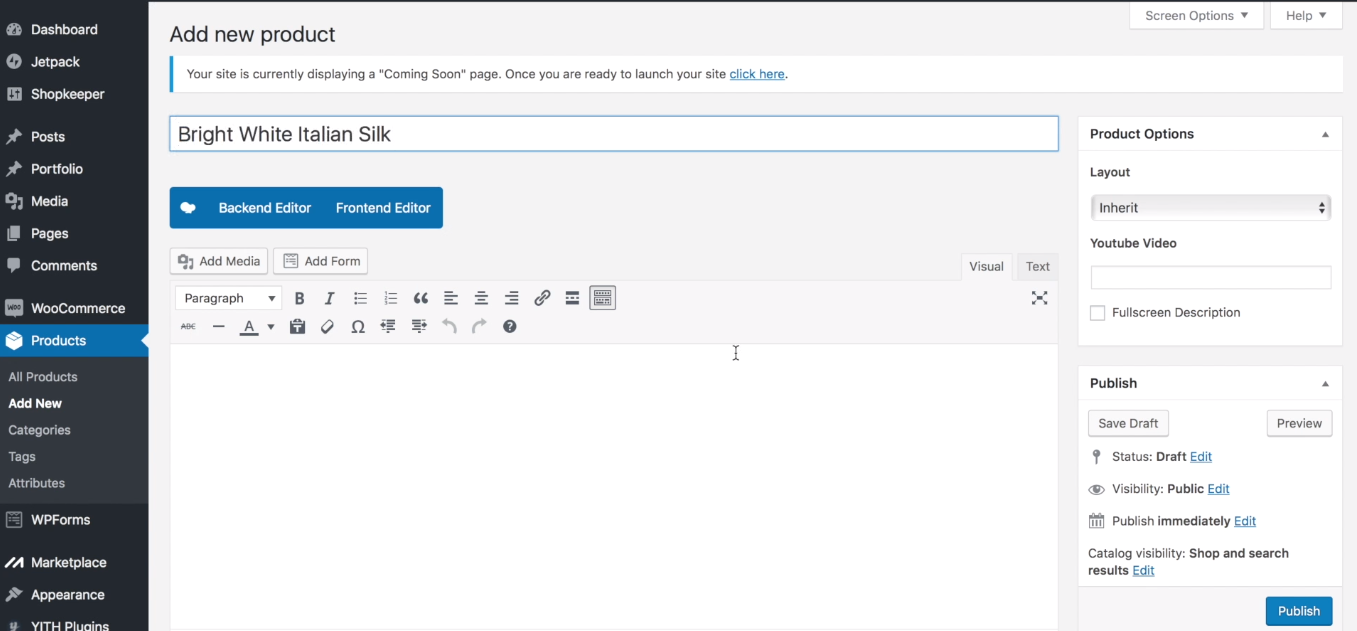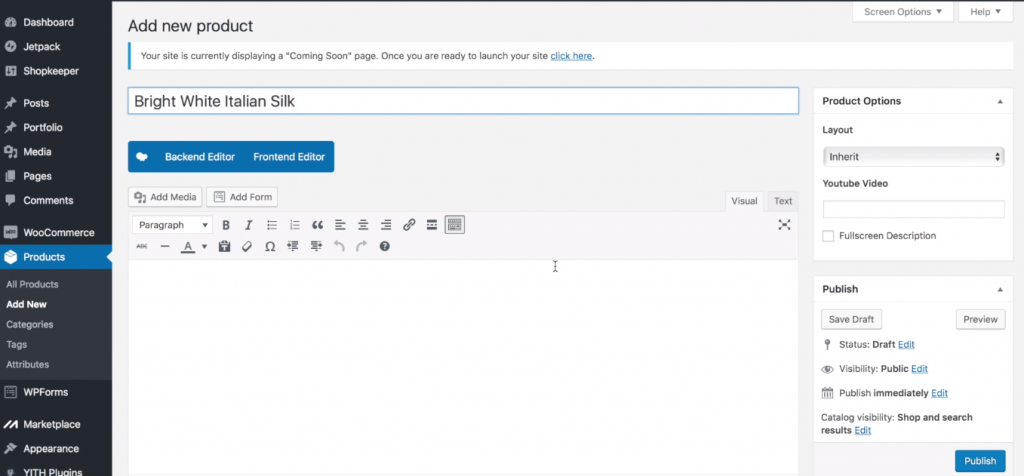 Setting Up the FAQ, Shipping & Returns and Terms & Condition Pages
Buying online is a gamble. Customers are unable to physically hold the product before purchasing. They cannot gauge the quality of the item, or whether it is worth the price they are paying.
Detailed descriptions and clear FAQs will help the customer make their decision.
To set up the FAQs page:
Go to Dashboard > Pages > Add New
Title the page "FAQs"
Add relevant content
Go to the Shortcodes button > Elements > Tabs/Accordions > Accordion
Add your question between the quotes in [accordion-item title="Accordion Item 1 Title"]
Add your answer where it says Accordion Item 1 Content Goes Here
Do this for all your FAQs
Add the last line of your code as [/accordion]
Click Publish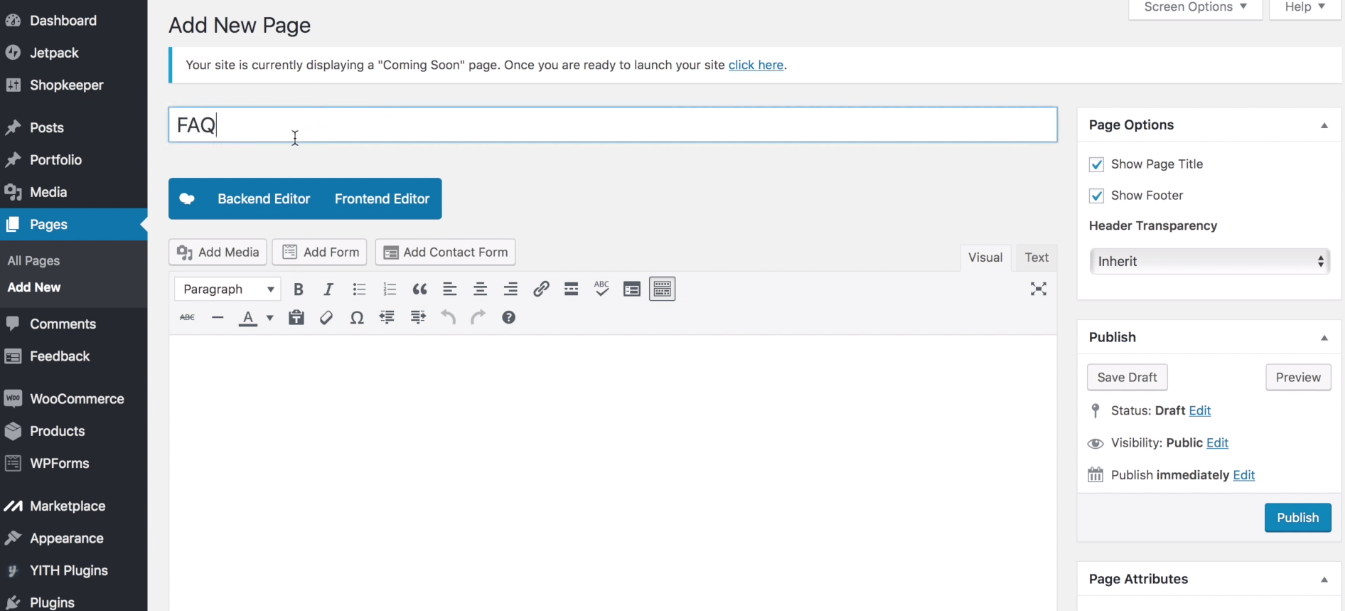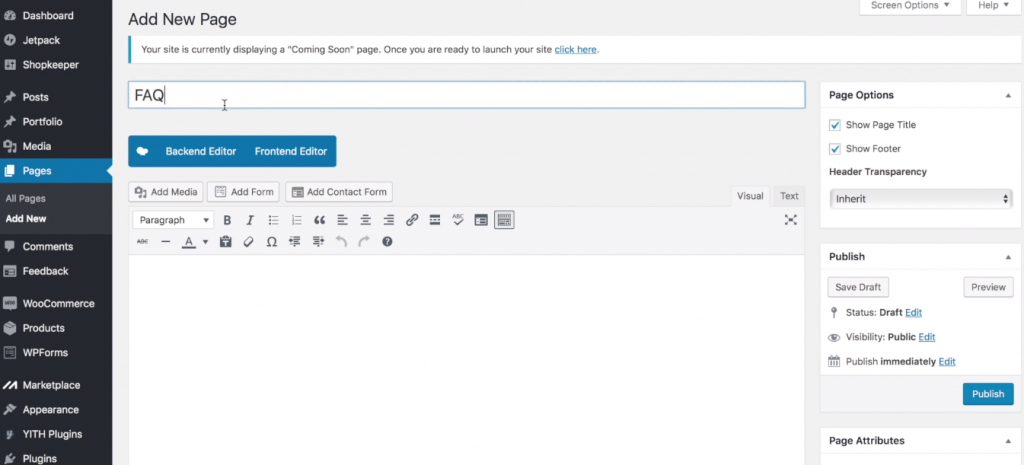 To add a Shipping & Returns page:
Add a new page and title it Shipping & Returns
Add relevant content
Click Publish
Do the same for the Terms & Conditions page.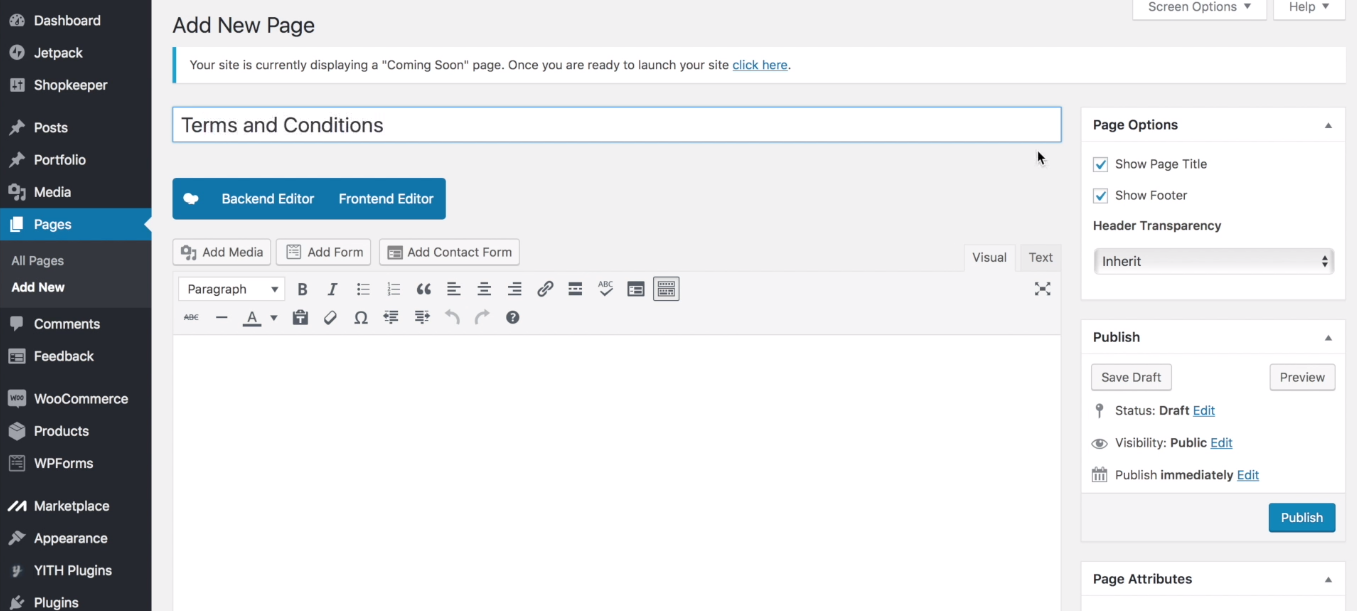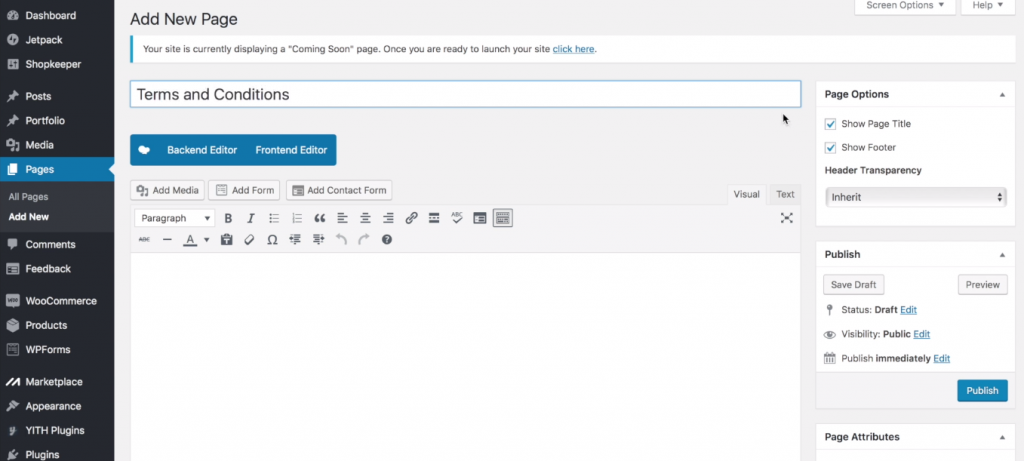 Setting Up the Contact Us Page
At this point, it is a good idea to also set up a "Contact Us" page, as well. Customers need to know that they can communicate with you if, and when, needed.
Head to Dashboard > Pages > Add New
Then navigate to the Shortcode tab > ELEMENTS > MAP
Add your latitude and longitude in the sections of the shortcode. This is where you need to place the contact us button
Enter your content in the Enter map content area
Now cut and paste all your content in the EXCERPT section under the content box
Testing and Deployment
There are a lot of other things you can add in a similar fashion, and once you reach a point where you are happy with the website you have set up, the final step is to test and deploy your website.
You can ask friends and family to access the site and provide feedback on whether the site looks good, or if it's user-friendly and compelling enough to catch and keep their attention.
Ask them if they had any inconveniences while navigating through your pages, or if there are any bugs that you can sort out.
Once checked, it's time to deploy and reap the benefits of all your hard work!
Conclusion
WordPress can be an important tool for startups and new businesses looking to expand online. If you are looking to build an ecommerce store this blog post will help you get the ball rolling.
However, if you find yourself struggling then please do not hesitate to reach out to us. We'll have you up and running before you know it!
Have some tips and tricks on WP ecommerce set up? Tell us about them in the comments section below!
Related Posts