Your business is competing against 60 million other businesses on Facebook.
With so many competing businesses how can you make your brand stand out from the rest (and without breaking the bank)?
On the flip side, the possibilities are endless. Facebook is still the best alternative since very few businesses know how to truly leverage its potential.
Here's another interesting fact.
People use Facebook search over 1.5 billion times per day.
Successful businesses are known for executing marketing strategies that no one else has heard of — they are trailblazers and they use fringe (white hat) tactics to generate traffic from Google. Facebook SEO is another one of those fringe techniques that businesses often don't even realize exist.
So how do you leverage all those billions of searches per day? Read on to find the answers!
This guide covers the following:
Facebook SEO.
Why should you use Facebook SEO.
Inner workings of Facebook SEO.
Optimizing Your Facebook Business Page.
Optimizing Your Facebook Profile.
Without further adieu, let's get started.
What is SEO
SEO‌, by definition, is the process of optimizing a website to gain visibility in search results from search engines. This helps drive traffic to your webpage, and generate more revenue.
The beauty of SEO‌ is that it works in any niche, and tactics can be applied to a variety of other platforms and campaigns (such as Facebook marketing).
The problem is that SEO takes a long time and requires a lot of hard work to generate results.
According to Ahrefs, only 5.7% of all newly published pages will get to Google Top 10 within a year. Rest of the websites take more than 2 years to achieve a good ranking.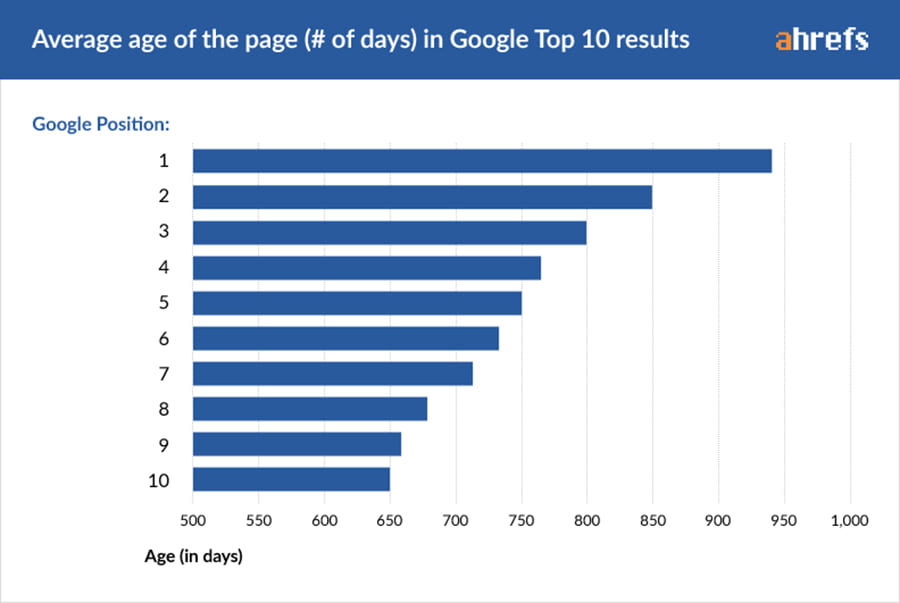 The best strategy is to run multiple campaigns while your SEO gains momentum.
Enter Facebook SEO
Facebook SEO is the process of optimizing your business page, personal profile, Facebook Notes, videos, and groups to gain organic visibility from search engines as well as Facebook Search.

Some Facebook businesses even rank for high commercial intent keywords that their target demographic would normally search for on Google.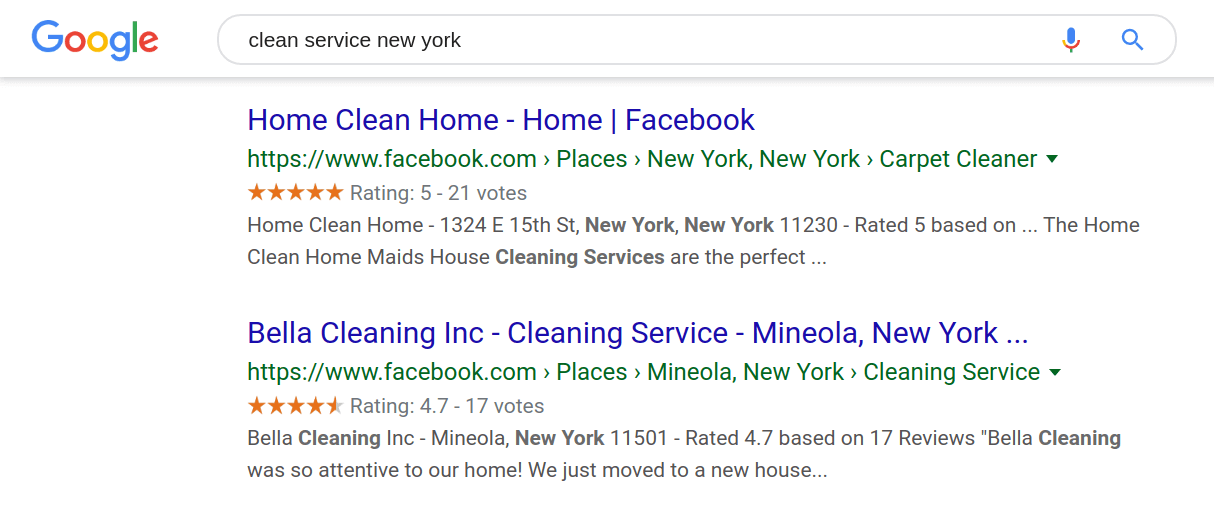 With over 2 billion users on Facebook, people love to use Facebook Search to find relevant content among the 2 trillion posts in its index.
So what is Facebook Search?
Facebook Search is a feature of Facebook that helps users find posts, people, photos, videos, pages, places, groups, events, content and links on Facebook.
In fact, Facebook is so similar to Google that it used to provide its own Graph Search search results which were later discontinued because companies were rampantly abusing it.
Keyword Research
Now that we know what Facebook Search is and how it is so similar to Google, it's time to capitalize on this traffic source.
The key is to start with keyword research (just like you would for Google-based SEO).
Find high commercial intent keywords that your target audience is likely to search for with the help of Facebook autocomplete. When you type any keyword into the search bar it will start generating suggestions.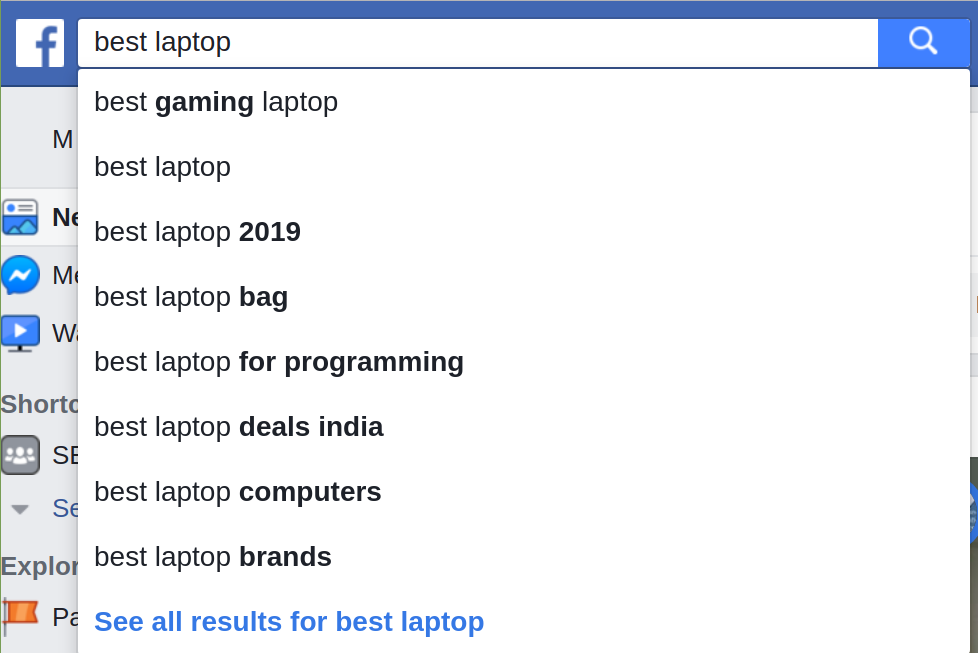 The theory is simple: if Facebook is showing suggestions, it means people are searching for it on Facebook.
Using SEO to Rank Better on Facebook
The Facebook algorithm is not dissimilar to Google's algorithm. For Google, when you use the right keywords in the title, meta description and have the right content in the article, you're more likely to rank better.

Facebook works the same way.

For Facebook, you should do the following.
1) Have a Keyword Centric Business Name
To appear at the top position in Facebook search, you'll need to find a relevant keyword that people usually search on Facebook.
Again, use the Facebook Suggest tool.
Go to Facebook search, and type anything related to your business.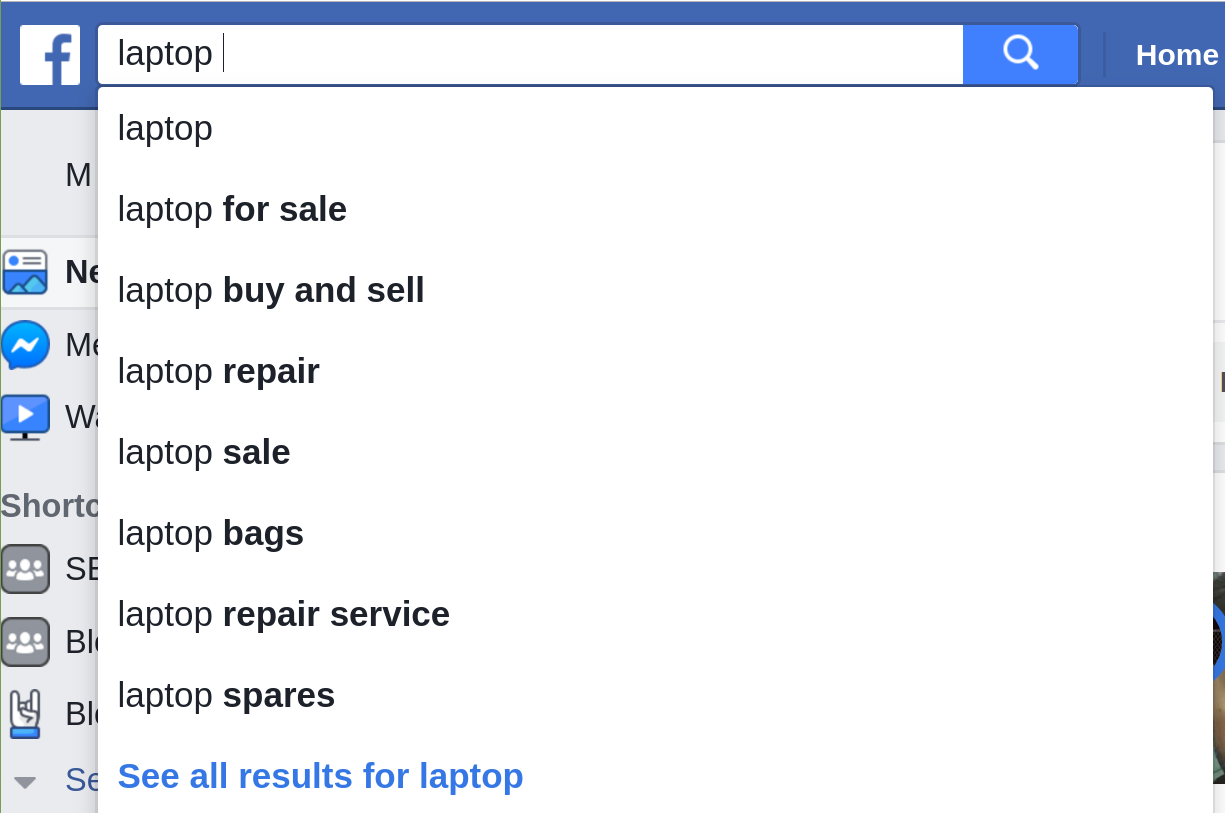 Pick the keyword that is closest to your business from the suggestions and note it down.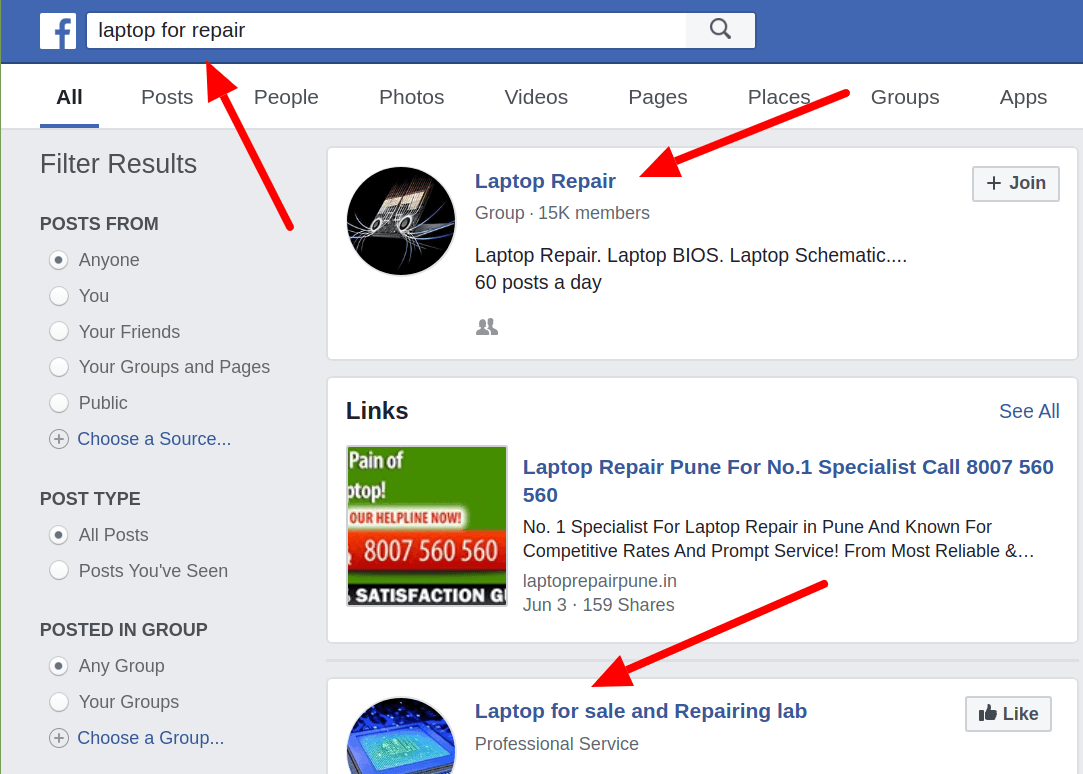 Look at the top results; all have the keyword "Laptop Repair."
You can name your business the same way for your Facebook page.
Keep the name short and catchy. The best format is to keep the brand name in the beginning, following the target keyword from Facebook suggestion. For example, just look at how Movenpick named itself. And it appeared in top results for its target keywords.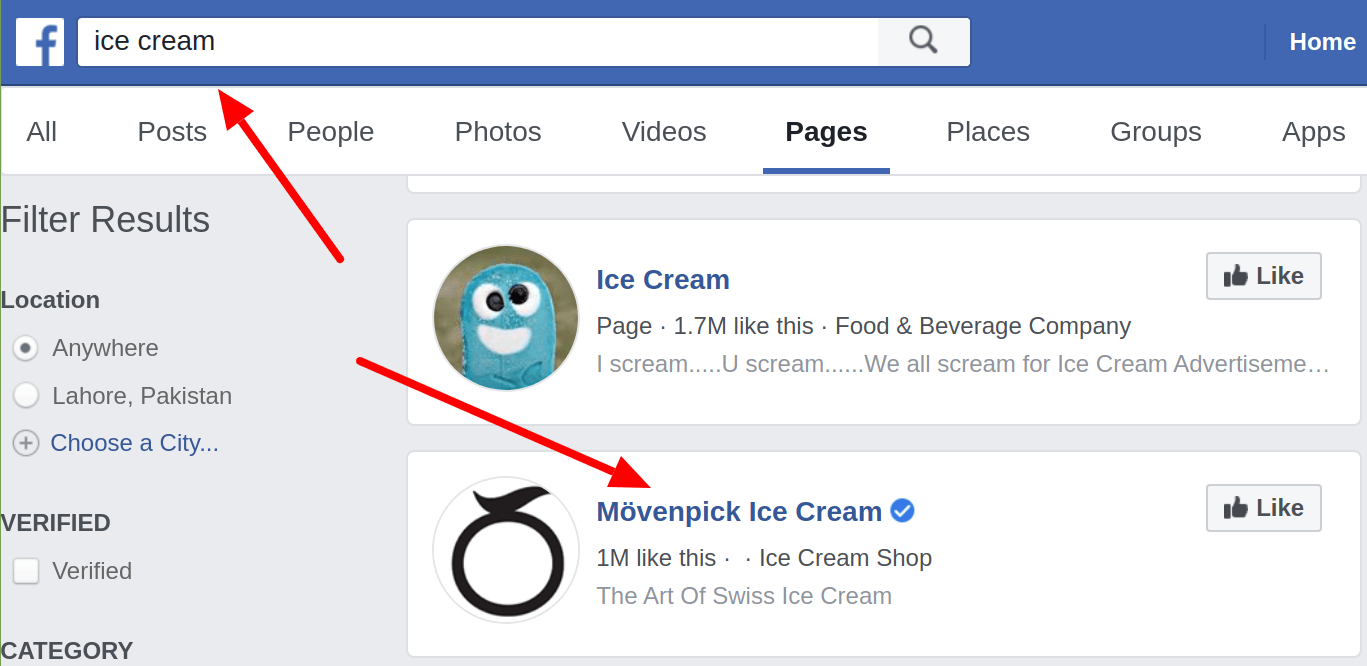 2) Spreading Keywords
Using a keyword in the page name isn't enough.
You need to put it in all the right places to let Facebook and its users know what your page is all about.
About Us: This area is critical for any business that wants to attract customers. Here you'll need to tell your target audience a good story that can hook and compel them to act on your call to action. For instance: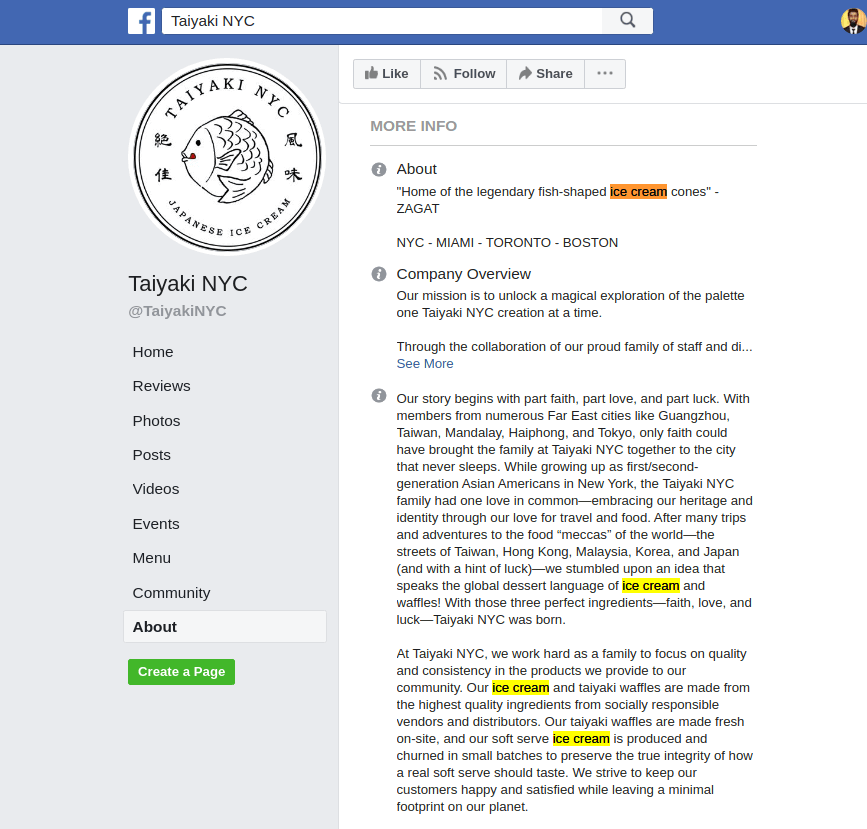 If you don't know where to find these, you need to select About and click Edit.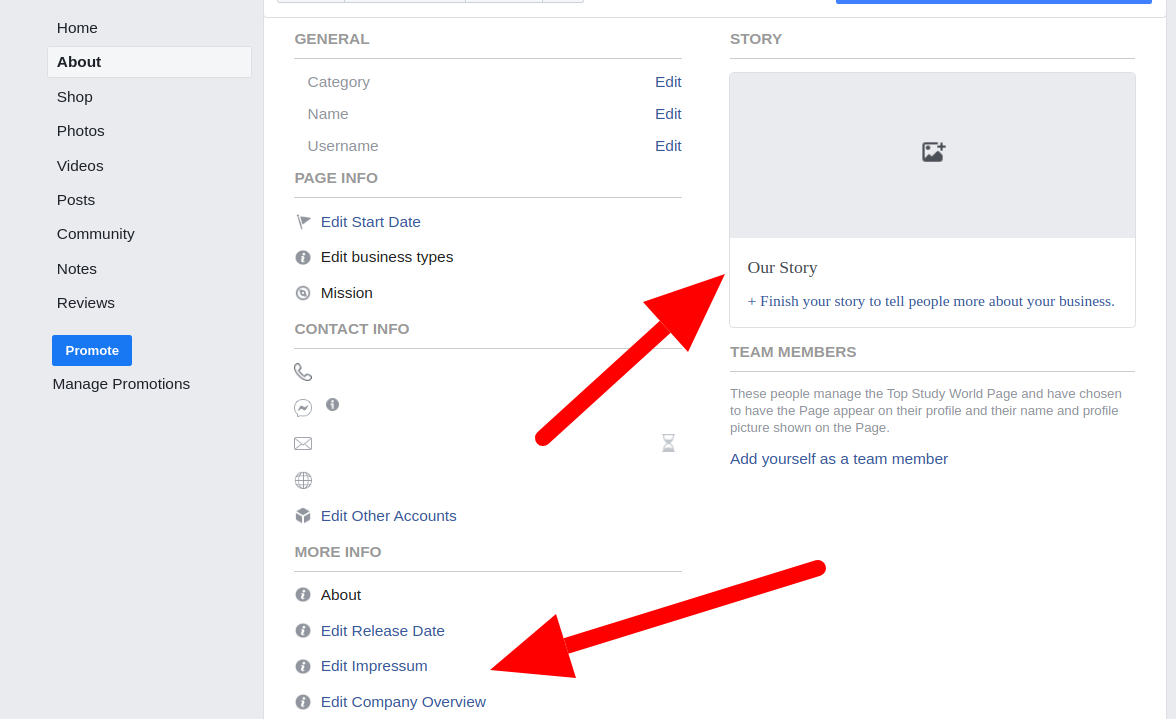 Keywords in posts: If you use your chosen keywords in every post, you're more likely to get the needed boost in ranking in Facebook search. Facebook tends to show the latest relevant content to users when they type anything into the search box.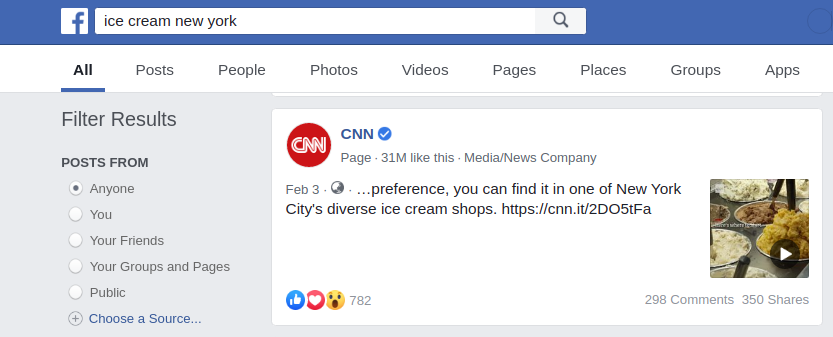 Keywords in the video title: Using a keyword in the video title helps achieve higher rankings for that particular keyword.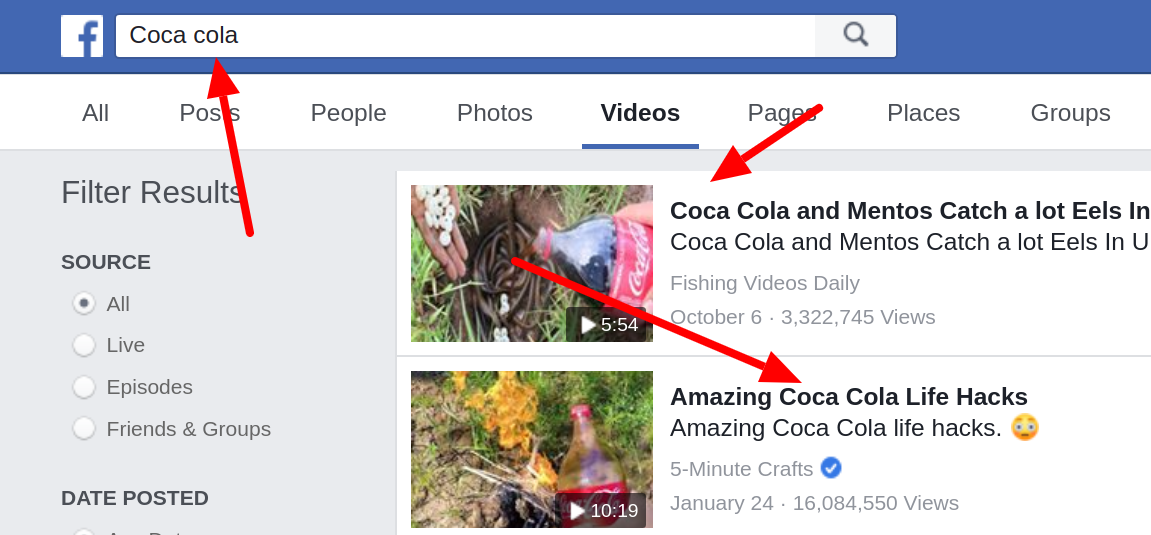 Keywords in event title: If you want to promote an event, the keyword should be in the title to attract the most people to your campaign.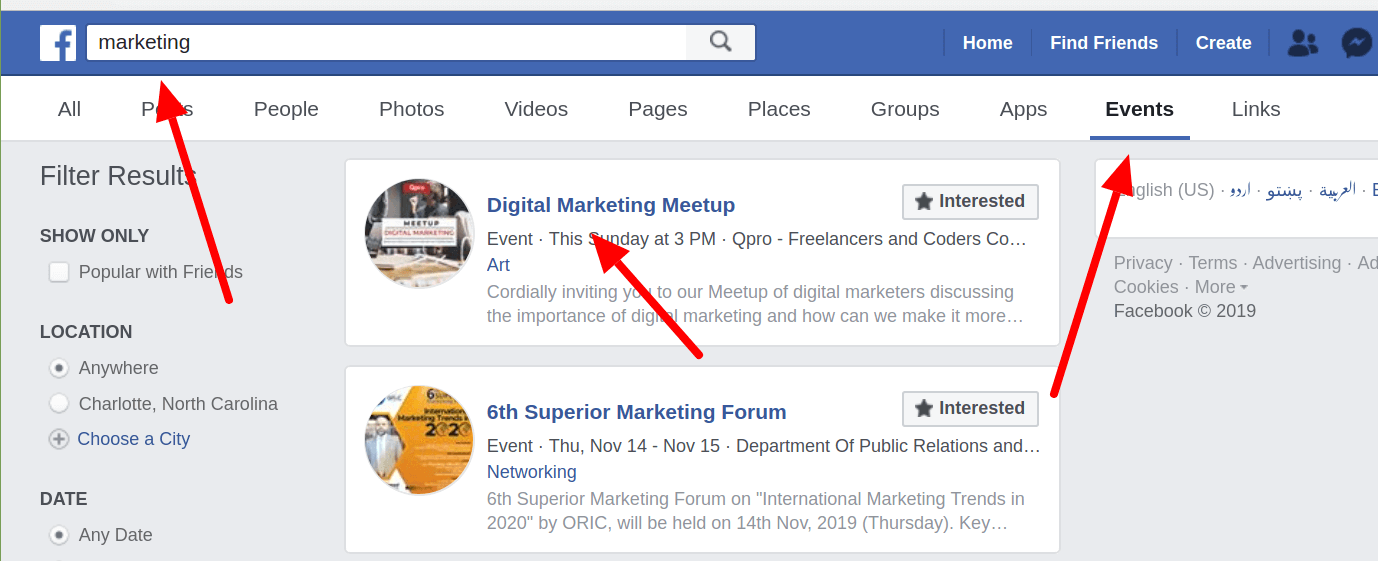 Keyword in the app title: This is helpful to game and app developers because people love searching for new apps.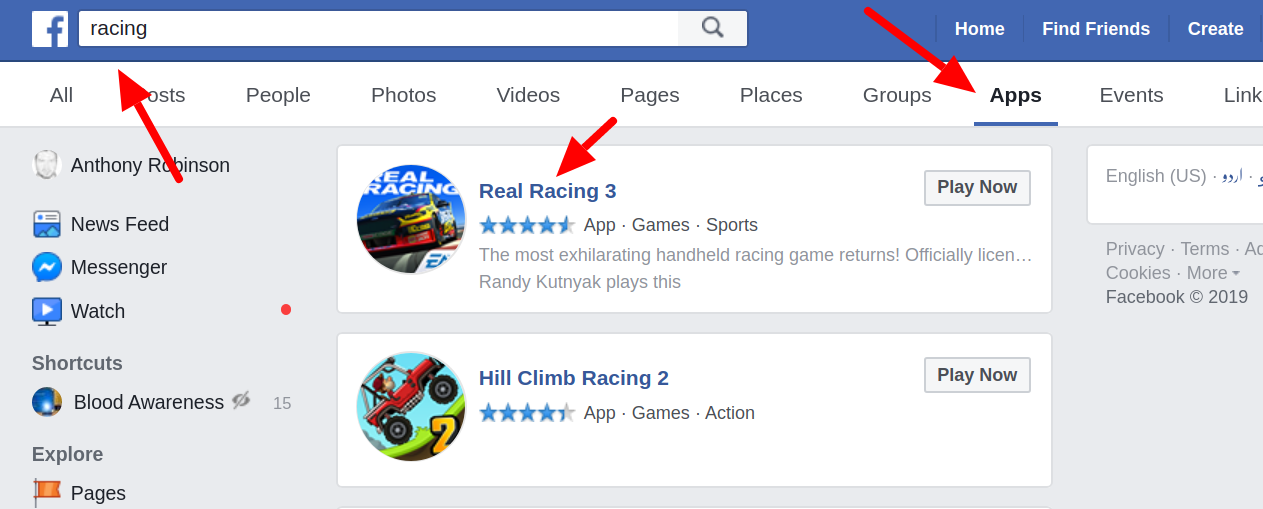 3) Claim Your Vanity URL
The vanity URL is a simplified, shortened and customized version of your website's URL. It is easier to remember and gives a hint to what your page is about. Be sure to use the right keywords in it.
It looks professional and easy to share on other social media channels like Whatsapp, Twitter, LinkedIn. It helps in ranking on Google too.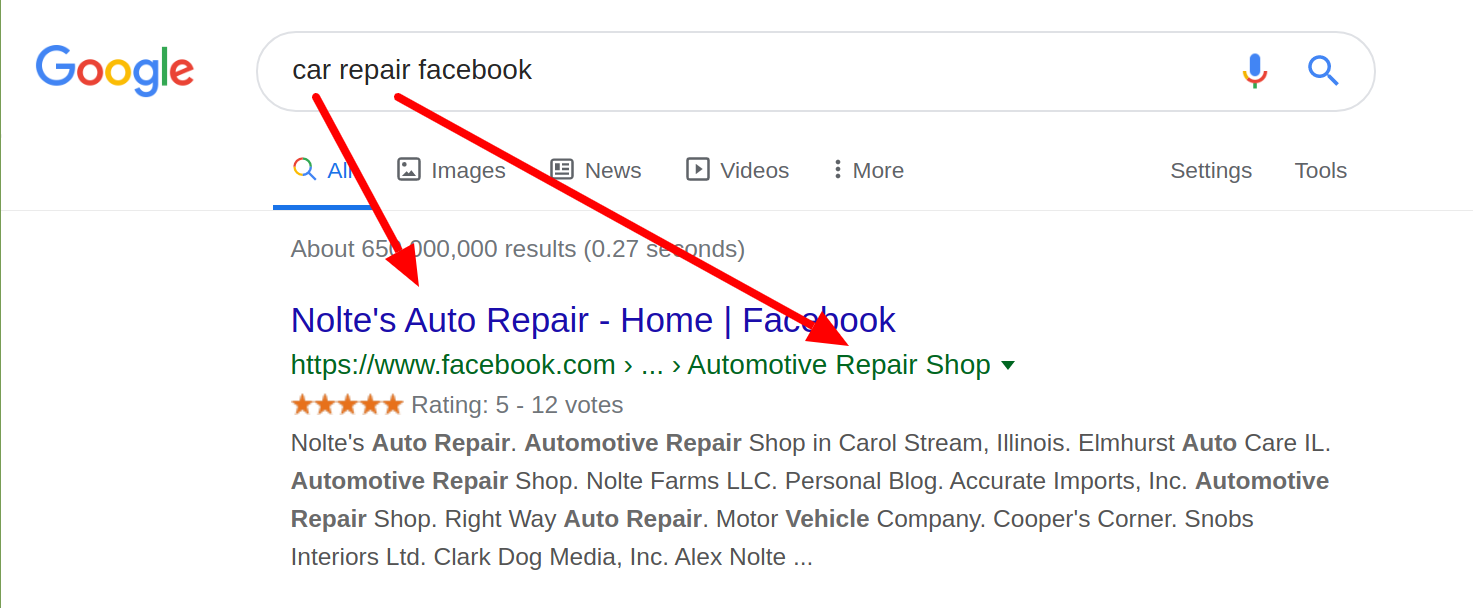 Facebook shows the short version of the URL.
In reality, the URL looks like this, facebook.com/noltesautorepair
When you don't get a vanity URL, it looks like spam (i.e. facebook.com/2323dasd).
You need at least 100 likes to get the vanity URL feature.
Already have 100 likes? Go to your page, select 'About' and click on the Create Page @ Username option.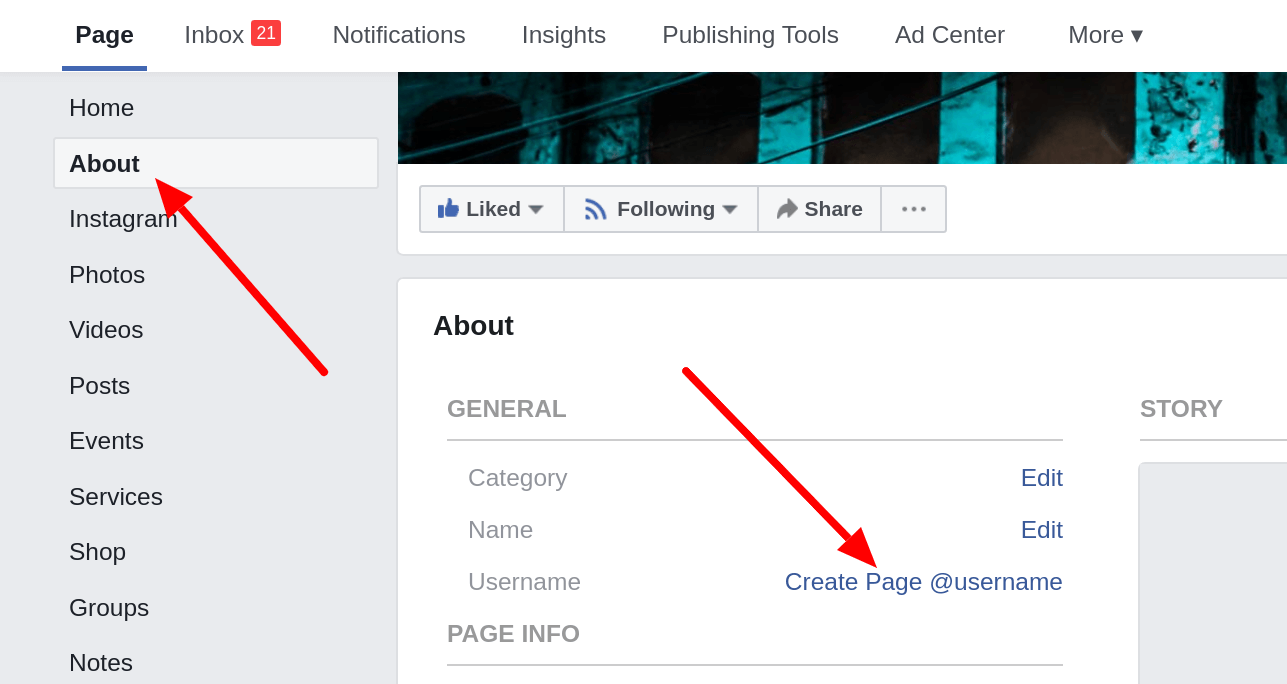 4) Local Facebook SEO
Likewise, Google Maps helps businesses get customers with no extra cost; Facebook offers you the same opportunity.
The best part?
Only a few businesses know about Facebook Maps.
Put yourself in your customer's shoes. If you were using Facebook, would you open a new Chrome tab to search for "coffee shops near you"?
Would you be wasting 30 seconds of time? Of course not. You'll just use Facebook search instead..
That's why Facebook shows suggestions when you search for "coffee shops".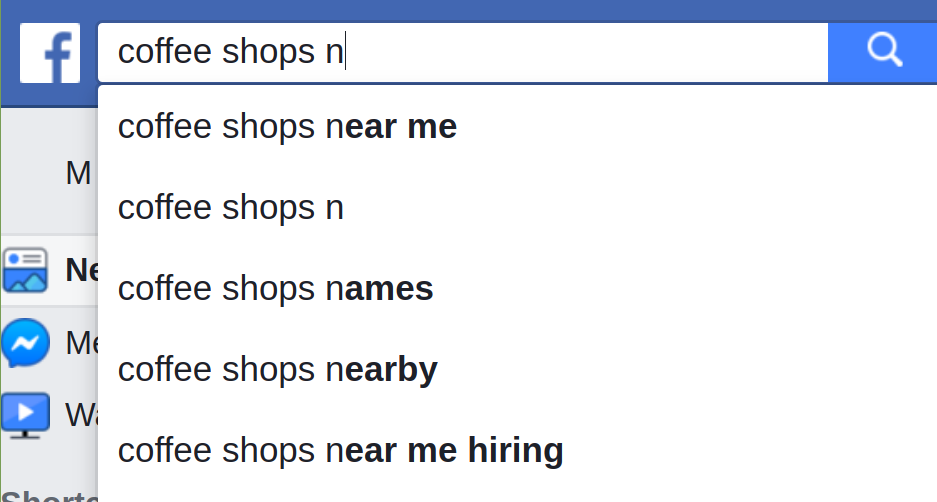 5) SEO For Profile Picture
Do you want to rank at the top when someone searches for something like "Wordpress expert"?
You can use the surname feature that will help you achieve this task.
Have a look at how this individual ranked for the keyword "WordPress Expert."

Here's how to do it. Go to your About section, select "Details About You", click on "Nickname", and then change it.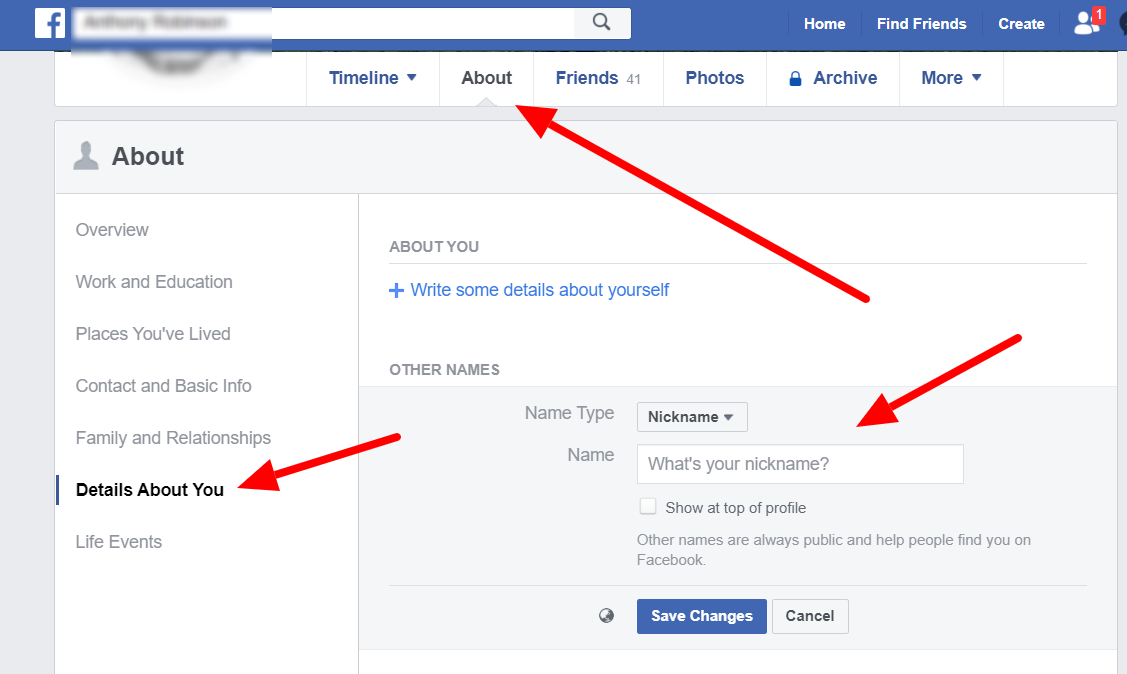 6) SEO for Facebook Notes
Using Facebook Notes to generate traffic is not a well-known strategy, and only a handful of savvy marketers are utilizing this source.

Facebook has a very high domain authority score which can help with rankings.
For example, type "Home Depot Veterans Discount" on Google search bar, you'll be amazed by how Facebook Notes are being featured. The keyword has 9,900 global searches per month.
Want to know how I found it? I used Ahrefs.
Simply put the URL www.facebook.com/notes/ into the Site Explorer, select the Featured Snippet filter. It shows all the keywords that rank as featured snippets.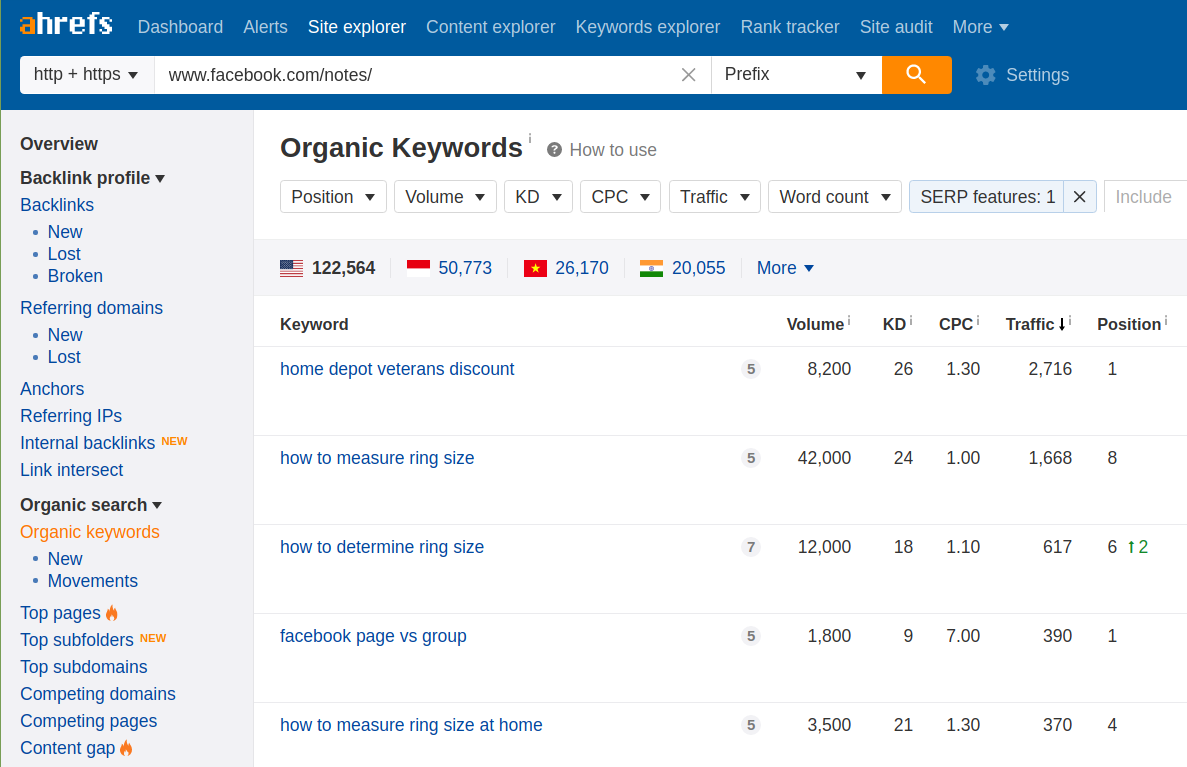 But how do you rank and drive traffic with Facebook Notes? Most of the time, when you write content using Facebook Notes you may not rank for months.
That's because in order to rank on Google, you need two things:
Relevant content about the keyword.
Backlinks pointing to the article on Facebook Notes.
If you've written the article, but lack backlinks, it won't rank well. You need to build links to the article to get that higher ranking in Google. Most importantly, get backlinks from relevant sites with a high domain authority.
As you can see below, Facebook Notes has 37 backlinks from different websites; that's why it's ranking is high.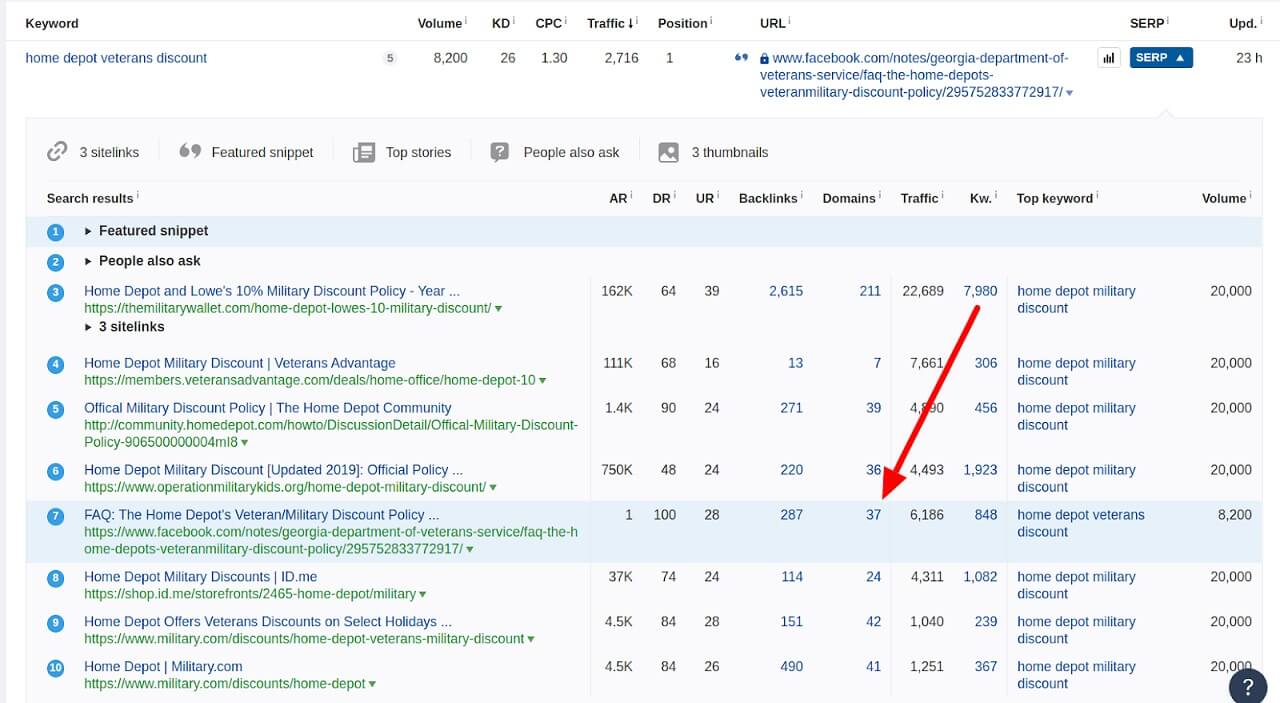 Here's an example of a backlink.
BBC is linking to Reuters.com, which means Reuters's got a backlink from BBC. Backlinks are like votes. The more votes you have from websites with good domain authority, the better you rank.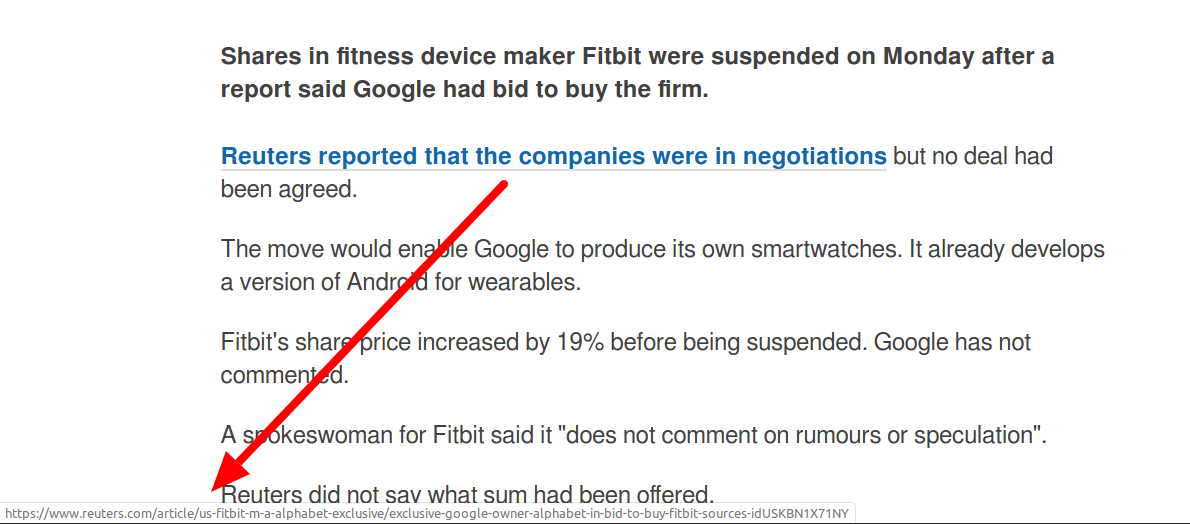 7) SEO for Facebook Group
Facebook groups are the backbone of Facebook; it's where people spend most of their time. You'll find groups having millions of users. Some people are earning thousands of dollars from Facebook groups alone. Once they build a large audience in their groups they monetize the groups with different products, or use them as marketing platforms for third parties.
If you want to make a Facebook group, make sure you give it a name that people look for on Facebook.

Did you see it? This group ranks at the top because its name contains a keyword that certain niches search for.
Of course, other things matter too, like:
Daily posts
Active members
Engagement
Wrapping Up
Businesses underestimate the power of Facebook, and it's an excellent opportunity to break away from the pack.
There are a few key ingredients to keep in mind while executing a well thought out strategy to drive results. Those ingredients are:
Conducting keyword research to find the perfect keyword. A keyword people actually search via Facebook Search.
Optimizing your Facebook Page for Local SEO to drive traffic and attract visitors to your site.
Utilizing keywords in the Facebook Page name, Facebook Notes, and Facebook Group for better ranking.
Which tips are you going to execute? Let me know in the comments section below.
Related Posts